This is the Official report of Wildfires that are currently burning or have been put out on Saturday, July 18, 2020, for the State of Nevada.  This is the evening update.
FIRE WEATHER REPORTS
"More of the same can be expected next week. Highs in the 90's to near 100. Dry and warm weather seems to be locked in." – US NWS Elko, NV
========== ONGOING WILDFIRES ==========
BIG SUMMIT FIRE
17 miles NE of Panaca, along the Nevada-Utah state line near Hamilin Valley, Utah.  Detected 7/13/2020.
Photo Credit | BLM Nevada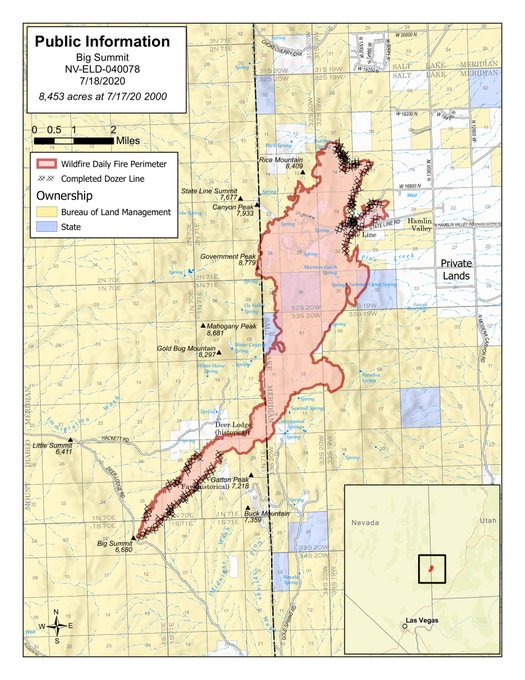 8,602 acres in ctricially dry grass, brush and pinyon-juniper vegetation.  15% contained. 337 total personnel, 4 Type 1 crews. 9 Type 2 hand crews, 6 engines, 4 dozers, 1 Type 1 helicopter, 2 Type 2 helicopters and 2 Type 3 helicopters.  Great Basin Team 5 (Type 2 IMT) assumed command 7/17/2020 at 0600 PDT.
1 structure lost.
$4.2 Million cost-to-date in fire suppression and containment costs.
SHAFTER FIRE
20 miles NW of Wendover. Elko County.  Extreme fire behavior. Running, torching and flanking.
Photo Credit | Bureau of Land Management – Nevada (BLM NV)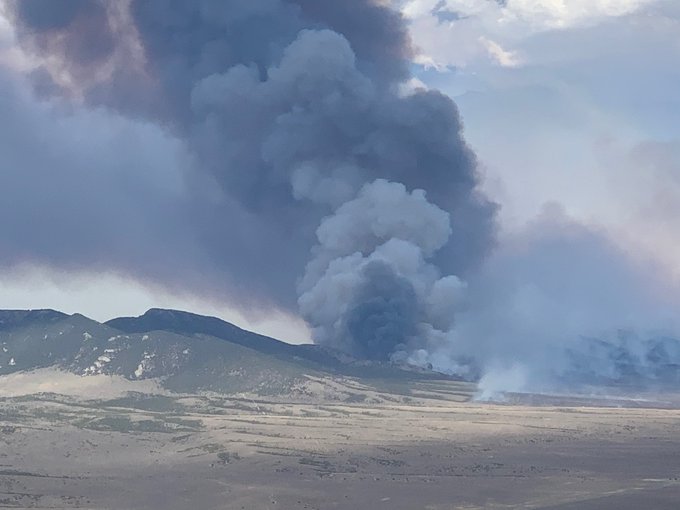 3,130 acres. 10% contained. 93 personnel. 2 crews, 9 engines and 1 helicopter. $200,000 CTD. Start 7/17/2020.
========== CONTAINED, OUT WILDFIRES ==========
EDGEWATER FIRE
Edgewater Drive x Spring Creek. IC:  Kizer.  Dispatched 1434 PDT. Contained/controlled 1801 PDT. 2.46 acres.
NORTH LENA FIRE
East of Fish Spring, Pinenuts. B3362, 3665, 621, 3901 and 3902 dispatched at 1716 PDT.  Forward progression stopped.  Units released. BLM assumed command of final mop-up operations at 1834 PT. This is on Federal lands. 1 acre of pinyon and juniper.
RATTLE FIRE
Rattlesnake Mountain. Washoe County. TM BC30 IC. 7.95 acres.  Dispatched 0239 PT.
=== PUBLIC SERVICE ANNOUNCEMENTS ===
DRONES
"Even a tiny drone can cause a serious or fatal accident if it collides with firefighting aircraft. In most situations, if drones are spotted near a wildfire, firefighting aircraft must land due to safety concerns. This prolongs firefighting operations; in many cases, wildfires become larger when aircraft are not able to drop fire retardant, water, monitor wildfires from above, or provide tactical information to firefighters. Homes and other values at risk could burn needlessly, firefighters or others could be injured, or worst of all, a fatal accident could occur." – BLM Fire and Aviation
HEAT AND YOUR HEALTH
"With temperatures in the high 90's and low 100's this weekend, remember to stay hydrated and give yourself a way to stay cool whether you are out workin gof playing this weekend.  This is to protect yourself from heat-related illnesses." – US NWS – Elko, NV
========== SOCIAL MEDIA ==========
HAGTAGS
#NVwildfires  #FireSeason2020
FOLLOW US!
Twitter @nwfireblog –  Facebook @nwfireblog – Instagram – nw fire blog
(c) 2020 NW Fire Blog – Updated 7/18/2020 2145 PDT