GRASS VALLEY FIRE
A wildfire began on Saturday, August 11, 2018 is located west of Grand Coulee Dam and Banks Lake near Mansfield in Washington State.  The fire is burning near Sims Corner in Douglas County.
8/11/2018 – 2330 PDT – Saturday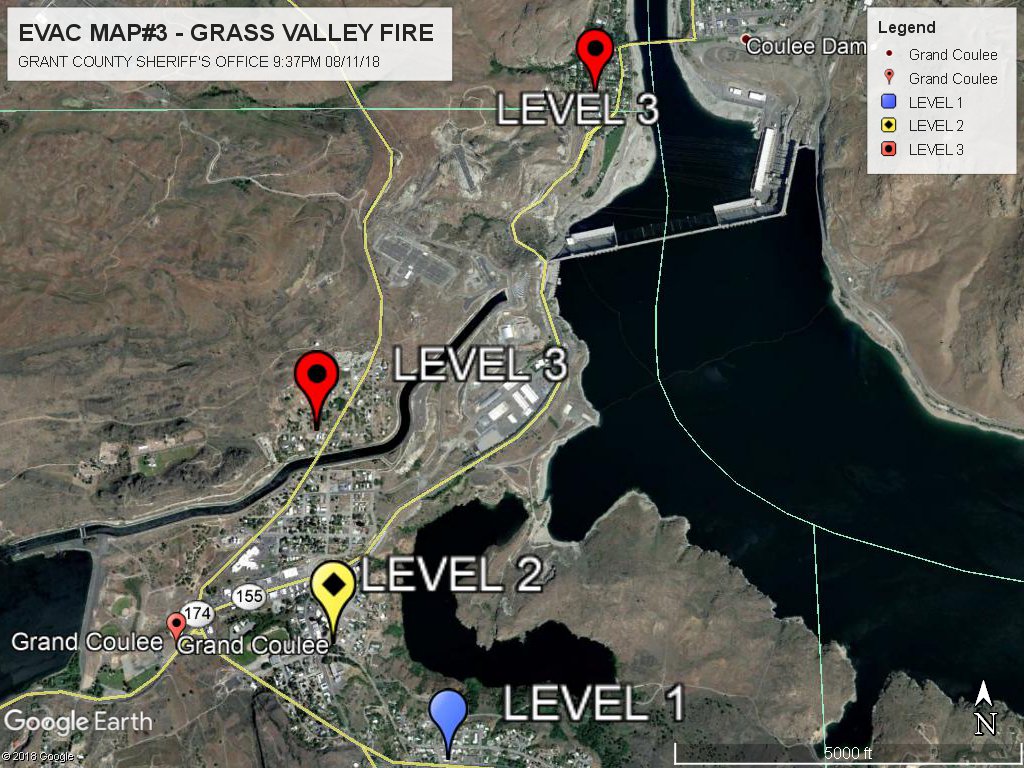 ————— LEVEL 3 EVACUATIONS  —————
Town of Coulee Dam, Barker Canyon Rd, Pleasant Valley, N / NW Grand Coulee, Town of Coulee Dam, W side of Columbia River
 ————— LEVEL 2 EVACUATIONS  —————
OTHER SIDE  of Columbia River
RED CROSS SHELTER
Lake Roosevelt Elementary.  503 Crest Dr, Coulee Dam WA
————— RESOURCES —————-
FIRE
State Fire mobe approved earlier this afternoon.  Tulalip Bay Firefighters have been deployed to the fire as of 2200 hours on Saturday evening.
EVACUATIONS
Evacuation Notification: Grant Co Sheriff Office
————— FIRE STATUS  —————
1000 acres (about 1900 hours PDT). 0% contained.
We reached out to Grant County to verify that some are reporting the fire to be at 15,000 acres with an increase to 45,000 acres by morning. They told us that there is no official known acreage amount and the IMT will release those numbers on Sunday, August 12th when their presser is updated.
Big fire spread today with high winds. Burning into sagebrush land with grazing and sporadic homes and ranches.
1 firefighter injury with burns (reported by media o/s) to face, neck, hands. Transported to HMC (Seattle).
Mapping Credit: Mapping Support