| 4 | Monday | October 28, 2019
2330 hours PDT
Fire Stats
Started 10/23/2019 @ 2127 hours PDT
Located northeast of Geyersville in Sonoma County
Cause is unknown
Fire Investigation on-going, FIU working tirelessly to find cause
Credit | Alameda County FD. Firefighters are clearing the road for homeowners.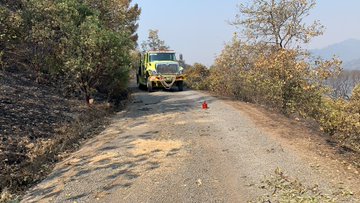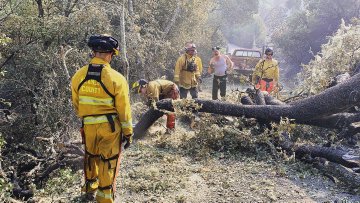 FIRE WEATHER FORECAST | NEW RED FLAG WARNINGS just issued for the North Bay, East Bay and Santa Cruz Mountains Tuesday into Wednesday. – Weather Media
Current Status
Active fire behavior with spotting
74,324 acres
15% containment
Estimated containment in November 2019
90,015 structures threatened < 80,435 homes, 70 commercial & 8,800 others
1 injured firefighter
SIGNIFICANT EVENT | PG&E has had the largest power shutdown in recent history turning off power to 1 Million homes, businesses, Public Safety/Medical facilities and other power customers to avoid wildfires, etc.
Incident Cooperators
Unified Command | CAL FIRE – Sonoma-Lake-Napa Unit and Sonoma County Sheriff's Office.
CA Fire Agencies |Geyersville Fire Protection District, CDCR, Culver City FD, Corona FD, BIA, BLM, Pasadena FD,  La Habra Heights FD, Springs FD, Downey FD, Compton FD, Alameda County FD.
WA Fire Agencies | Bothell FD, Seattle FD, Valley Regional Fire Authority, Arlington FD, Island County FD, South County FD, Snohomish County Fire Districts 7, 22, 26, Everett FD, Lake Stevens FD, San Juan FD, Skagit Fire District #4, Skagit FD.
Emergency Management | CAL OES, County of Sonoma.
Law Enforcement | CHP, Placer County SO, Sonoma County Sheriff, Marin County Sheriff.
State Resources | CA National Guard.
Federal Resources | USFS.
Humanitarian/Shelter/Food | Red Cross – Northern CA Coastal, Red Cross – Sonoma County, World Central Kitchen.
Weather Forecasters | NWS Bay Area, SIS Fire Weather Lab
QUOTE OF THE DAY | "A hero is an ordinary individual who finds the strength to persevere and endure in spite of overwhelming obstacles." – Christopher Reeve
Photo Credit | World Central Kitchen.
'The faces of the compassionate who are feeding those in need, is a definition of a Hero In Action.' – The NW Fire Blog thanks you for your services, dedication and commitment to others.
Resources & Equipment
4,373 personnel
468 engines
42 water tenders
10 helicopters
85 hand crews
66 dozers
SIGNIFICANT EVENT| Washington State has deployed 7 Task Forces from 31 Fire Districts and Fire Departments responding with 35 engines, 9 Command Vehicles and 110 fire personnel as Mutual Aid.
Damage Assessments
20 damaged structures > 12 homes, 1 commercial and 7 others
123 destroyed structures > 57 homes, 5 commerical and 61 others
Zone Evacuations
Zone 1 | Ida Clayton Road, (which includes residents on Ida Clayton Road) North to Highland Ranch Road at Campbell Road, East of the 101 between Asti Road & Alexander Valley Road, to the Mendocino & Lake County Line, including Lakeview Road & extending South along the Lake & Sonoma County Line to Ida Clayton Road.
Zone 2 | Hwy 128 North Knights Valley Area to the Napa County Line.
Zone3 | Hwy 101 Corridor from Geyserville South through the town of Windsor, including the entire city of Healdsburg and the town of Windsor & all areas East to Chalk Hill Road area.
Zone 4 | The Dry Creek Valley West to Forestville.
Zone 5 |  Larkfield and Mark West Drainage.
Zone 6 | Calistoga Road/Petrified Forest Road to the Sonoma & Napa County Line.
Zone 8A |  North of Occidental Road.
Zone 9 | The city of Santa Rosa, including all areas East of the Western City limit, North of Guerneville Road, Steele Lane, Lewis Road, & Chanate Road to Montecito Avenue to Montecito Boulevard to Calistoga Road, North to the city limit.
Zone 10 | All areas within in the city North of Highway 12 West of Highway 101.
SIGNIFICANT EVENT | Media reports of PG&E shutting off power to almost 2 Million people could occur on Tuesday.  
Evacuation Shelters (With Vacancies)
Santa Rosa Veterans Memorial Building  | 1351 Maple Avenue, Santa Rosa, CA 95404.
Sonoma County Fairgrounds | 1350 Bennett Valley Rd, Santa Rosa, CA 95404.
Petaluma Community Center | 320 N McDowell Blvd, Petaluma, CA 94954.
Muir Memory Care | 750 N. McDowell Blvd, Petaluma, CA 94954.
Iglesia Cristana | 1129 Industrial Ave #104, Petaluma, CA 94952.
Napa Valley Expo | 575 3rd Street, Napa, CA 94559.
CrossWalk Community Church Napa | 2590 1st Street, Napa, CA 94558.
St. Mary's Cathedral | 1111 Gough Street, San Francisco, CA 94109.
Calvary Chapel of Petaluma | 1955 McDowell Blvd, Petaluma, CA 94954.
@Airbnb | Offering free and temporary housing to evacuees. This is in effect from October 24, 2019 through November 7, 2019 for select hosts through the Open Homes program.
HEROES IN ACTION | "Really inspired by the owner of Tacos al Carbon in Santa Rosa. He has already donated thousands of meals. – Media"
Shelters (FULL)
Petaluma Valley Baptist Church | 580 Sonoma Mountain Pkwy
Petaluma, CA 94954.
Marin County Fairgrounds | 10 Ave. of the Flags, San Rafael, CA 94903.
Petaluma Veterans Building |1094 Petaluma Blvd S.,  Petaluma, CA 94952.
Petaluma Fairgrounds | 100 Fairgrounds Drive, Petaluma, cA 94952.
New Life Church | 2060 W. College Avenue, Santa Rosa, CA 95401.
Napa Valley College | 2277 Napa Vallejo Hwy, Napa, CA 94558.
Evacuation Warnings
Zone 7 | All areas West of East Side Road, throughout the Russian River Valley to Bodega Bay.
Zone 8B | Areas South of Occidental Road.
Zone 21 | City of Calistoga and Napa County North of Diamond Mountain Road to Dunaweal Lane. East of the Sonoma County/Napa County Line. South of the Lake County/Napa County Line. West of Pickett Road.
Zone 31 | Issued for the area of Highway 29 from Butts Canyon Road South to the County Line. All of Butts Canyon Road in Lake County between Highway 29 & Napa County Line. Highway 175 between Highway 29 Middleton North to McKinley Drive. This includes Middletown proper, Twin Pine Casino, Middletown Rancheria, Dry Creek area, all roads off of Highway 175 between Middletown and McKinley Dive, and Butts Canyon Road including all side streets.
SIGNIFICANT EVENT | The City of/County of San Francisco's Mayor London Breeds issues a proclamation declaring a  local emergency.  San Francisco opnes a 200- person temporary shelter at a local church. 
Road Closures
Pine Flat Road @ Red Winery Road
Geysers Road @ Red Winery Road
Geysers Road @ River Road
SR 128 @ Moody Lane
SR 128 @ Geysers Road
SR 128 @Geyserville Avenue
SR 128 @ Alexander Valley Road
SR 128 @ Pine Flat Road
SR 128 @ Railroad Avenue
Lytton Station Road@ Lytton Springs Road
Healdsburg Avenue @ Alexander Valley Road
All roads east of Hwy 101 in the Geyserville area
Evacuees Resources & Announcements
Credit | EPA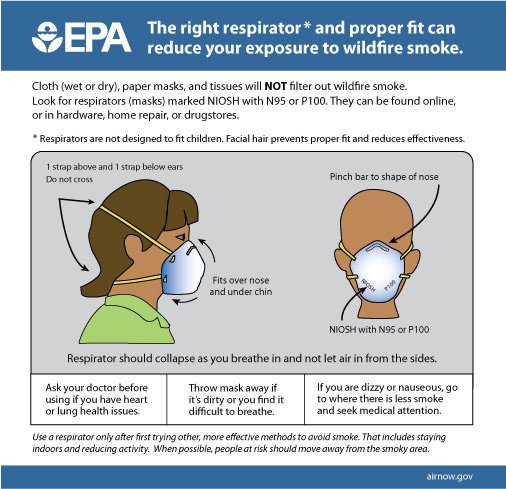 Credit | Pet Rescue and Reunification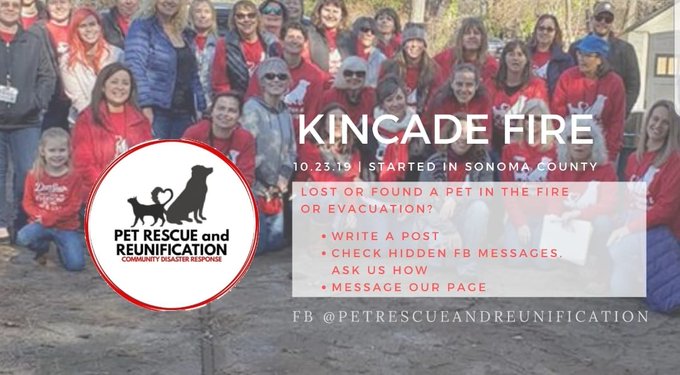 Through the Eyes of Social Media – October 28, 2019
2126 PDT |  AA6WA reporting the slop on the east side of fire is considerably bigger than the original 80 acres it was. Fire has also crested a ridge & become more visible to residents east of the fire generating some 911 calls. – CA Fire Scanner
2031 PDT |  AA6WA (night recon plane) overhead observing the eastern portion of the fire, reports torching & crowning occurring as fire backs down a slope. Views from St Helena N & Cobb Mtn respectively. – CA Fire Scanner
2004 PDT | Most of the 450 cows survived… but the ability of the ranch to feed and house the cattle did not. The farming community has been donating stacks of hay and equipment and friends in other parts of CA will be housing some of the calves and heifers for the winter. – Media
1920 PDT | Trees down and power lines down in Knights Valley on Hwy 128 just North of Ida Clayton (trout farm) Rd.  – Eyewitness
1822 PDT | California's new wildfire fund could be on the hook for some losses resulting from the #KincadeFire if PG&E's equipment was responsible. – Media
1758 PDT | SRJC Alert, Mon., Oct. 28, 2019, 5:25 pm: Due to impacts from the #KincadeFire, ongoing evacuations and power outages throughout Sonoma County, all #SRJC campuses will remain CLOSED THROUGH FRIDAY, Nov. 1. All activities and classes, including online classes, are canceled. – Santa Rosa Junior College
1338 PDT | Last night, 3,000+ people sought refuge from the wildfires in 15 Red Cross and community Shelters.  Those in need of a safe place to stay can download the Red Cross Emergency App to find a shelter near them. 
1242 PDT | PCSO deputies are in Sonoma County helping with evacuations.  – Placer Sheriff.
1220 PDT | So far, is that fire, sheriff, police, and other government agencies, from state to local, have shown incredible preparedness and competence. Clearly, lessons were learned from 2017 and a lot of hard work went into planning this response. – Media
1147 PDT | "We hold our California communities in prayer as they face firestorms, blackouts, and evacuations. God, keep everyone safe, restore those facing loss, encourage volunteers, and supply Your abundant peace to all on the move." – Sisters of St. Joseph
Credit | Placer County Sheriff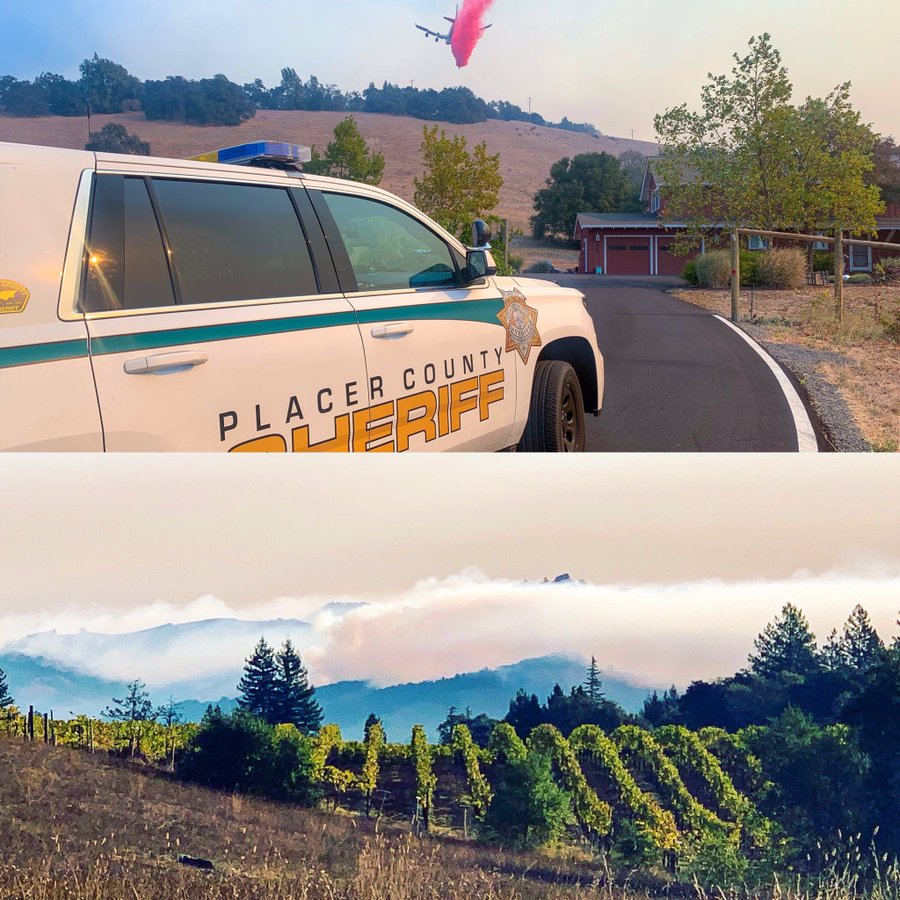 1026 PDT | Red Cross Nor CAL's new DRO HQs in Petaluma (office in Santa Rosa was evacuated). 15 total shelters identified – 5 Red Cross Managed, 4 County or City Managed, 4 independent, 2 on standby. All of our shelters are accessible to all and ensuring safe places for pets.
Credit | Red Cross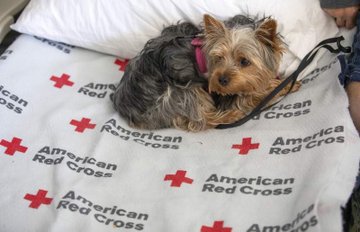 0919 PDT | Sonoma County has confirmed with ICE that there WILL BE NO IMMIGRATION ENFORCEMENT. Evacuation centers are SAFE THROUGHOUT THE BAY AREA. Please translate and RT. – Media
October 27, 2019
Red Cross Shelters | Red Cross volunteers are here for you and your PETS too! Please bring supplies & yours, including medications, comfort items, chargers, documents, etc. All are welcome, no matter citizenship status. – Red Cross PIO
Evacuation Shelter Opens | We are establishing an evacuation center at the Marin Center Exhibit Hall, 10 Avenue of the Flags, San Rafael with assistance from the Red Cross. This center is for predesignated evacuees from full evacuation centers in Sonoma County and is at capacity. – Marin County Sheriff.
PG&E Community Resource Centers | Customers impacted by the Public Safety Power Shutoff can visit Community Resource Centers beginning at 8 AM, October 27, which provide restrooms, bottled water, electronic and medical device charging and A/C seating.  Locations list –> https://www.pge.com/en_US/safety/emergency-preparedness/natural-disaster/wildfires/public-safety-event.page?WT.mc_id=Vanity_pspsupdates
Possible Cause | https://www.nbcbayarea.com/investigations/Kincade-Fire-Started-Just-Beyond-PGE-Planned-Outage-Zone-563809521.html – Media
Important Work | We continue to receive reports from hundreds of incredible journalists on the front lines, remember that this is traumatic for them as well. Check in with your journalist friends. Remind them that the work they're doing is important. – Media outlet
Eyewitness Accounts | Fire encroaching the highway on 128, both sides, in Sonoma Co. in Healdsburg. Major wind gusts kicking up and and trees and power lines down everywhere. – Media reporter on the fire ground.
October 26, 2019
Power Shutdown | PG&E has begun to shutoff power in most of Sonoma County. A prolonged outage may reduce our ability to warn you in the event of an emergency. – Sonoma County Sheriff.
HASHTAGS
#CAwildfires #FireSeason2019 #KincadeFire
(c) 2019 NW Fire Blog