UPDATE 2- 1700 PT
INCIDENT COMMAND
Reports of an explosion have occurred on the USS Bohomme Richard (LHD-6), a 40,000 ton Wasp class U.S. Navy amphibious assault ship at the San Diego Naval Base/port.
The fire occurred at 0830 hours PT with several explosions, heavy flames and smoke and several injuries to sailors and firefighters.
This ship can carry up to 1700+ personnel and/or 20 F-35B stealth fighters at any given time.
COMMAND
Unified Command with Federal Fire and San Diego Fire Department (mutual aid unit).
INCIDENT TIMELINE
0830 PT | Fire ignites on the naval ship, USS Bonomme Richard (LHD6).
0900 PT | SDFS personnel were requested by Federal Fire.
0909 PT | A second alarm is struck.
0951 PT | Federal Fire checks out sailors in the Medical Group.
1044 PT | SDFD is in Unified Command with Federal Fire.
1051 PT | A third alarm is struck by the Federal Fire agency, which prompts the response of San Diego Fire Department personnel and equipment.
1055 PT | Command requests PAR accountability of all firefighters and personnel.
1100 PT | An explosion is reported just before 1100.
1119 PT | All members accounted for.
1124 PT | Abandon the building tone is broadcasted to get all firefighters off the ship immediately. Change in Fire Operations.  Getting ready to go defensive.
Photo Credit | SDFD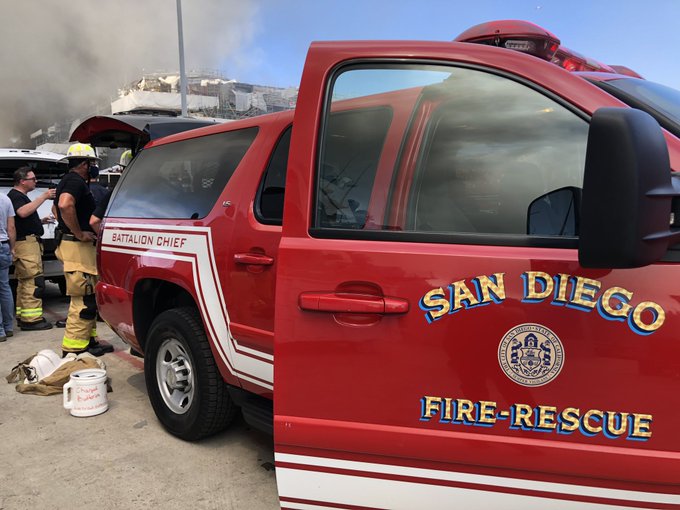 1128 PT | Local, base and shipboard fire fighting teams are responding to a fire aboard the USS Bonhomme Richard (LHD6) located on the Naval Base SanDiego.
1130 PT | Fire conditions are growing worse. Command pulling all firefighters out of the ship and going defensive. Requesting all units to evacuate the ship immediately and give PAR. Command Post is where the American Flag is located.
1131 PT | Command states foam/sprinkler system to go online/engage in 30 minutes.
1138 PT | Command needs PAR of all units. Federal Fire/SDFD setting up REHAB.  Another explosion reported, very chaotic in the background on scanner feed. No injuries reported. Firefighters removing all of their gear off the pier.
1142 PT | 1 Truck 11 Firefighter injured. Reporting to the Medical Group for assessment. Evacuations in effect for clearing the pier.
1144 PT | Command asking Dispatch for 5 additional ALS ambulances to respond to Base.
1147 PT | Units assigned to the fire are T11, LA1, LA40, T44, T1, E17, E4, T12, E1, E201, E27, E7, E11, USAR2, E51, E20, E26, E12, E19, E2, E3, B1, B6, SC1, B3, B2, AM414, AM416, AM418, AM495, AM417, B33, B53, B57, BLS5, CHAP6, CPTR2, CRDT36 CVB51, Dep6, FB11, FB12, Fe110, Fe111, Fe12, Fe16, Fe161, Fe18, Fe19, FEDLA110, FEDM92, Fm28, FTR17, LOGS2, LOGS4, M1, M10, M12, M39, M4, M43, M6, MC1, MD1, MS71, MS84, NCE34, NCT34, OS10, SOP3, USAR53
1149 PT | Command orders all personnel to report to their Group Supervisor. Command is iniating PAR.
1153 PT | Currently, 3 ALS/BLS units are loading up their patients. 5 more ambulances are inbound. Will be used as needed.
1159 PT | Medical group has E20 as Transport Supe and E27 as Triage Supe. 10 patients are either currently or have been transported to hospitals. Sufficient number of ambulances for now.
1200 PT | Heavy smoke with no water on the fire due to the previous large explosion. Fire is moving towards the bow and forward, coming out of the hatches.
1201 PT | Setting up foam flowing operations. Unit only has 100 gallons of foam per vessel. May need Logistics to help with coordination.
1204 PT | Heavy smoke billowing out. Foaming operations to commence. Members will decide if hull or in openings to spray the foam into.
1205 PT | All members told to exit the pier with urgency and pull their gear off the dock.
1210 PT | All SDFD members are accounted. PAR complete.
1220 PT | FD 911 calls are starting to flood in of smoke check and ordors in surrounding areas and where the smoke is beginning to impact communities.  Winds are inceasing and smoke is pouring out of open hatches from the ship.
1221 PT | Smoke is seen billowing out of hatches on the starboard side. Conditions are worsening and concerns for those working downwind are duly noted.
1225 PT | Some firefighters remained on the pier after the initial abandon the building tones were broadcasted and Command is urgently telling members to exit the pier and remove their equipment. PAR was conducted and received for the remaining firefighting team as completed. All members present.
1236 PT | There is exposure, which is another ship but fire has not reached it. A mass number of sailors are seen running away from the ship as fire has reached its fuel tanks. SDFD asks if there should be additional evacuations. Unknown the answer since another feed walked on theirs on the scanner feed.
1239 PT | Copter 2 is down being refueled. Copter 3 is en route to the fire.
1240 PT | Copter 2 is down for refueling but 3 is on his way back to the fire.
1253 PT | REHAB tasked with coordination of water and food for Naval personnel.
1257 PT | 11 sailors have been transported to the hospital for minor injuries. The entire crew is off the ship and all are accounted for.
1300 PT | Commands notes lots of equipment on the pier now but not sending anyone to go and get it. FD B1 to start releasing units. Creating a list for Logistics for refill of supplies for units before going back into service.
1301 PT | At 1300 PT, The USS Fitzgerald (DDG 62) shifted berths to a pier further away from the fire.
1316 PT | The fire occurred at approximately 0830 PT. 160 sailors were aboard at the time. The ship was going through some maintenance availablity. The ship usually has 1,000 crew members. 18 sailors have been transferred to a local hospital with non-life threatening injuries.
1330 PT | The USS Russell (DDG 59) moves approximately 30 minutes later to a more safe and secure location.
1336 PT | The ship was moored pier side at Naval Base San Diego.
1405 PT | A 2nd Firefighter to the hospital for assessment after failing the REHAB evaluation.
1430 PT | 17 sailors and 4 civilians are being treated for non-threatening injuries at a local hospital. All inport ships have been contacted and directed to provide fire parties to possibly assist with firefighting efforts.
1609 PT | Navy Reg SW Tugs are continuously battling the fire from the bay.  The cause of the fire is still unknown and is under investigation.  Federal Fire is rotating out crews onboard the ship with the Navy firefighting crews from the waterfront to fight the fire in order to find the origin of the fire & put it out.
1610 PT | Federal Fire San Diego is lead firefighting agency for Naval Base San Diego. 2 Firefighting teams are aboard the ship.
UPDATES
More updates will be provided as information is received.
(c) 2020 NW Fire Blog – Updated 7/12/2020 Updated at 1745 PT