UPDATE 3-2100 T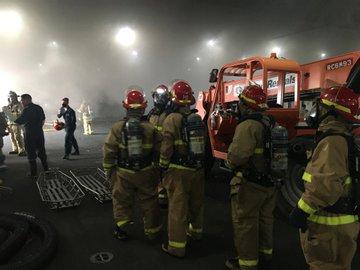 Reports of an explosion occurred today on the USS Bohomme Richard (LHD-6), a 40,000 ton Wasp class U.S. Navy amphibious assault ship.
The Ship is said to be in port at the Navy Base San Diego  for some routine maintenance in between deployments.  The US Navy said those assigned to the ship were either in local or base housing and all crew were off the ship at the time of the fire starting at 0830 PT.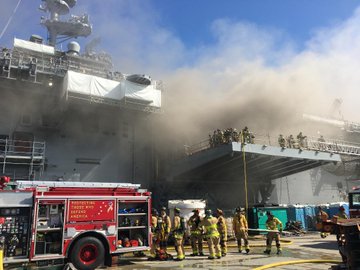 Mutual aid units were brought in after escalated the fire to a 2nd alarm and later as a 3rd alarm.  The incident was in Unified Command with Federal Fire (US Navy Firefighters) and San Diego Fire and Rescue from just before 1000 hours PT until into the afternoon when they began releasing some of their own FD resources.
The USS Fitzgerald (DDG-62) and the USS Russell (DDG-59) shifted berths to a pier further away from the fire to where they are currently safe and less likely to be impacted by any of the flames and heat that the fire is releasing around itself.
The Navy has full confidence they will be able to save the ship itself and personnel are doing everything to make that happen.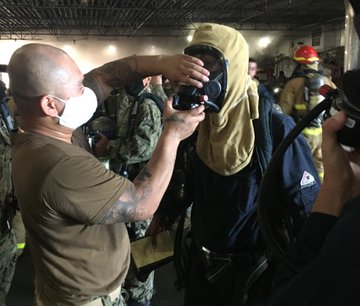 Federal Fire San Diego and sailor firefighters are currently leading the firefight to put out this fire as it has been burning for the last 9 hours.
Non-first responders on base in Sector A (west-side; north of Pier 5) were directed just after 1700 hours PT to shelter-in-place until further notice.
The Department released a statemetn today saying this fire could continue to burn for days
There have been 17 sailors and 4 civilians transported to area hospitals for medical treatment. All of their identities and conditions are unknown due to the healthcare laws.  We would not report that due to their own privacy.  .
The cause is unknown at the time of this post and is still under investigation.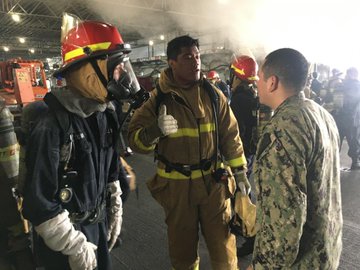 You can also find us on our Social Media Channels:
Facebook & Twitter –

@

nwfireblog
Instagram – nw fire blog
Photo Credit to Images | US Navy unless otherwise noted.
Hashtags being used for this fire are #USSBonhommeRichard #USNavy #ShipFire #SDShipFire
(c) 2020 NW Fire Blog – Updated 7/12/2020  2030 PT