EAGLES NEST, New Mex. – A wildfire that started on Thursday, May 31, 2018, ) has grown from 16,500 acres on Friday, June 1, 2018 has now been categorized by us as a Firestorm.  The wildfire has reached an official number of 27,290 acres of timber and chaparral.
There is still a 0% containment.
LOCATION
A fire was reportedly burning on the Philmont Scout Ranch property near Ute Park on May 31, 2018 around 1410 hours MDT.
The fire can be seen from the north at the summit from the Angel Fire Resort.
The fire is  burning on private land off of (burning on both sides of) Highway 64 and 1 mile east of in Ute Park, as well as 15 miles south of Eagle Nest, New Mexico (northeast portion of) in the New Mexico Forestry in the Cimarron District area.
It is unknown if this was where the ignition point or the original location of the fire.
The cause is unknown and under investigation.
RESOURCES
 Resources have been increased from Friday's 130 personnel to 447 personnel along with 10 crews, 8 helicopters, 24 engines, 8 bulldozers and 2 water tenders.
INCIDENT PARTNERS
SWCC, Colfax County, NM Fire Info, Angel FD, NM Environmental Public Health Tracking – EPHT, Ute Park Fire, NM DOT, Angel Fire Resort, Philmont Scout Ranch (Boy Scouts of America), Red Cross, Colfax County EM and Kit Carson Electric Cooperative Inc., NM State Forestry, Cimarron District, Sandoval County Fire, FEMA, Joseph Elfelt (Mapping Support) and Colfax County Government.
CURRENT STATUS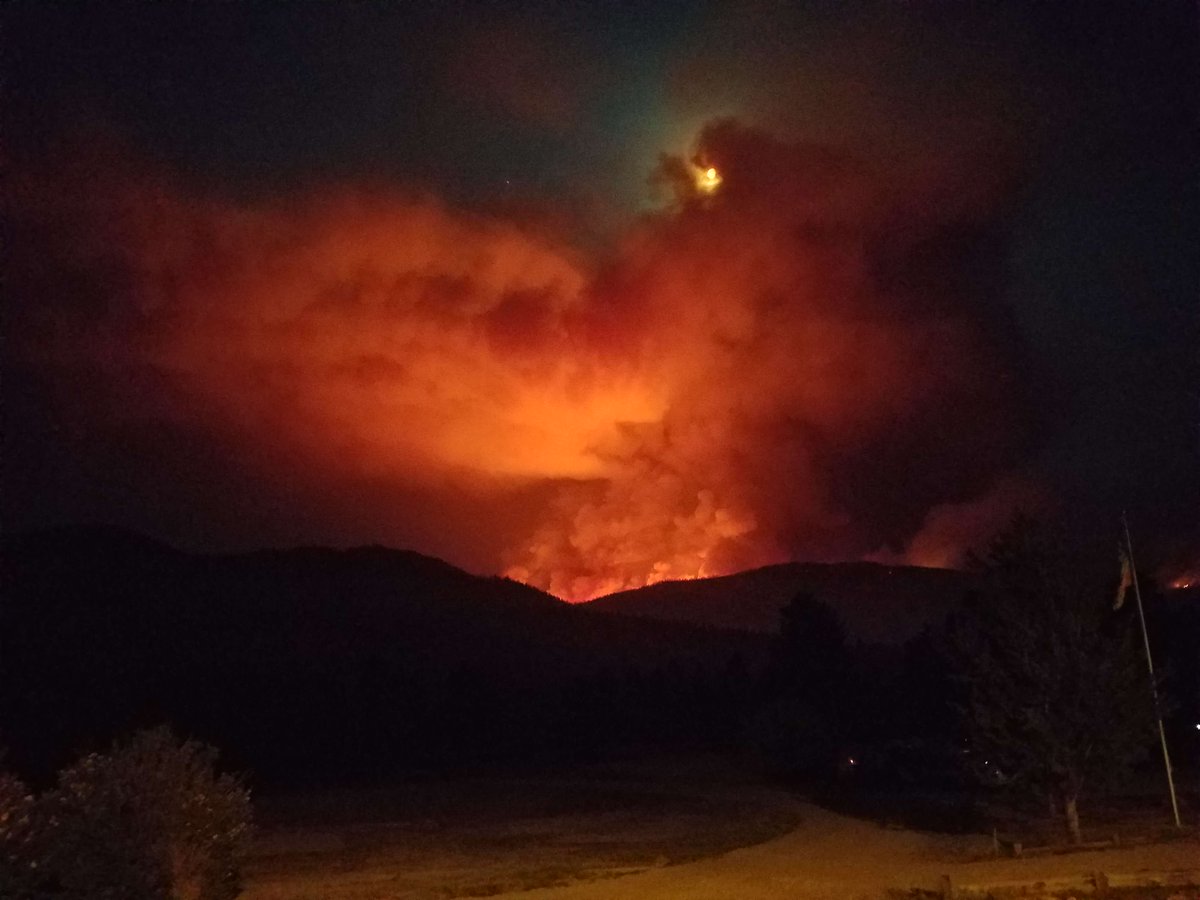 Fire Tactics:
Fire Managers used the favorable fire weather conditions to actively conduct a burn out operation between SR 204 and Highway 64 to help with structure protection of buildings in the Cimarron area.
North side of fire:  a hotshot crew willing be searching for containment and protection opportunities in the Gobble Gulch area.
East side of fire:  2 hotshot crews, engines and water tenders will be providing structure protection in the Cimarron area as needed and safely can be completed.
South side of fire:  3 hotshot crews and engines are assessing and providing structure protection in the Webster Lake and Philmont Scout Camp areas.
Incident Mapping: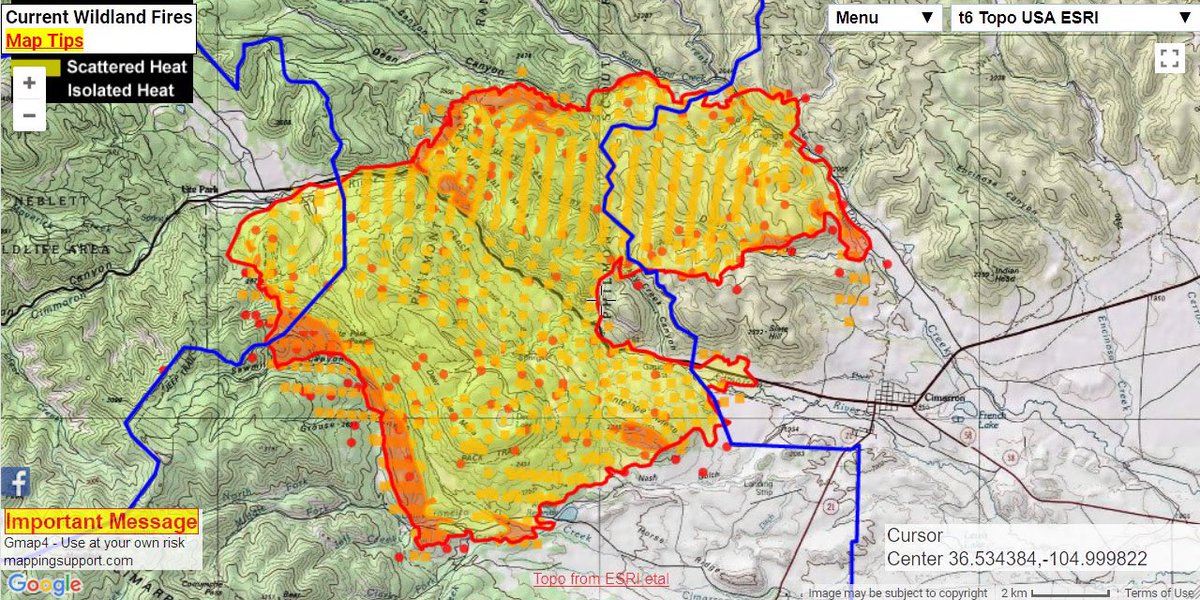 Weather:
Winds are currently forecasted to increase and shift from the northeast, east and southeast throughout the day.
Fire behavior is active, crowning which is burning through tree tops, is wind-driven and is expected to have long-range spotting.
An expected thunderstorm is due to hit the fire area with large hail, high winds along with heavy rain on Sunday into the night on June 3, 2018.  Flash flooding is of concern.
Fire Officials know that this weather may limit fire activity but are expecting the fire behavior to return.
Threats:
Damage Assessments:
12-14 outbuildings burned on the Philmont Scout Ranch.
$3,000,000 Cost-to-Date for fire suppression and containment expenses.
CLOSURES
Roadways:
Highway 64 between Eagle Nest and the Junction with SR 55
Highway 21 from Springer to Cimarron
SR 58 from I-25 to Cimarron
Roadway reports:  http://nmroads.com/ or Call *511
Parks:
Cimarron State Park
Lake inside Eagle Nest Lake State Park for helicopter firefighting efforts.  Ute Park is open.
SHELTERS
County Fairgrounds:
Nearly 1,100 Philmont Scout Ranch staff members moved their operations to this new location after poor air quality made it unsafe for them.
Red Cross Shelter:
Raton Convention Center – 9015 S 3rd Street, Raton. (Located on east side of the fire)
Eagle Nest Senior Center – 74 N Tomboy Drive, Eagle Nest.
Animals:
The Pet Pals Dog Boarding Kennel is offer shelter for anyone involved in the Fire.  Info here –> eaglenestdogboarding.com
ALERTS
Alert Notifications:
Email Alert Notifications – http://state.us5.list-manage1.com/subscribe?u=acd822eb860d4f1f039ccb48f&id=4750f58481
ABOUT UTE PARK
Ute Park is an unincorporated community in Colfax that lies on US Route 64 between Cimarron and Eagle Nest, just east of Cimarron Canyon State Park.  At the census count on record (2010), there was a population of 71.
NEARBY TOWNS
Cimarron:
The town of Cimarron has a population of 800 with main industries that include lumbering, ranching and tourism.  It sits on the eastern slopes of the Sangre de Cristo Mountains.   It also sits on the Cimarron River, a tributary to the 900-mile long Canadian River whose headwaters are at the Eagle Nest Dam with the main part of the town lying along US Route 64.
It is surrounded on all sides by numerous ranches, including the the Philmont Scout Ranch, known as an extensive "high-adventure base" that is operated by the Boy Scouts of America.  The ranch is located 4 miles from Cimarron.
Springer:
Springer is a town that is about 25 miles southeast to the Ranch with a population of 2,000 residents.  It is located in the southern portion of the Colfax County and located in the valley of the Cimarron River, about 6 miles west of where the river flows into the Canadian River.
Eagle Nest:
Eagle Nest is a village located in Colfax County with a population of 290 (2010 census) that is situated on the Enchanted Circle Scenic Byway that is a summer-home and resort area.  It is located in northern New Mexico near the Colorado state line.
Raton:
The largest of all of the nearby towns boasts a population of 7,000, is located 20 miles west of the Ranch on I-25 is the county seat in the northeastern section of Colfax County, New Mexico.  It is located just south of Raton Pass.
SOCIAL MEDIA
Hashtags:
#UteParkFire #UtePark #NMwildfire2018
(c) 2018 NW Fire Blog – Updated 6/2/2018 @ 1650 hours PDT / 1750 hours MDT