UPDATE 1 – 2250 hours PDT
BOX FIRE
The BOX FIRE is burning on NB I-5 at Kenwood Avenue that started as a car fire  into an urban interface on Friday, July 6, 2018, around 0955 hours.  The fire has scorched 100 acres of grass and chaparral fire fuels.
Weather concerns are continued near record high temps and low RH percentages.
There are a total of 105 personnel  from the CAL FIRE – Inyo-Mono-San Bernardino Unit, San Bernardino County FD and San Bernardino National Forest are attached to this incident will continue to monitor for embers and hot spots.   Other resources include those from the CHP, San Bernardino County OEM nd the San Bernardino County Sheriff's Office.
The fire has reached a 50% containment status.
COUNTY FIRE
The COUNTY FIRE is burning in CAL FIRE's Sonoma-Lake Napa (Napa and Yolo Counties) Unit's area.  The fire is being managed by a CAL FIRE IMT Type 1 that was formerly managing the PAWNEE FIRE.
This fire is burning one mile southwest of Guninda and east of Lake Berryessa, California.  Fire fuels include brush.
Current fire behavior is active with uphill runs, flanking and backing. Many structures are being threatened. Evacuations, roads, area and trail closures in effect.
88,425 acres. 55% containment reached. 2,858 personnel. 61 crews. 176 engines. 23 helicopters, 48 bulldozers and 51 water tenders.
Mandatory orders have been lifted as of 2111 hours PDT. For evacuation information, visit the Napa County Sheriff's Office for details.
Incident Cooperators include – California Department of Corrections and Rehabilitation, Cal OES, California Highway Patrol, California Conservation Corps, Yolo County OES, Yolo County Sheriff, Solano County Sheriff, Napa County Sheriff, PG&E, Bureau of Indian Affairs, Yocha Dehe Wintun Nation, Bureau of Land Management, United States Forest Service, California Air National Guard and California National Guard.
There is a conflicting report that 18 structures have been lost (NIFC) and 10 via CALFIRE's presser.  Fire suppression and containment status reaching an all-time high of $27,500,000.
Public Resources – Dial 2-1-1 for Yolo County evacuations or advisories ; Text 888777 for updates for Napa County residents.;  707- 967-4207 for County Fire Information.
DUTZELL FIRE
CAL FIRE crews were dispatched to a brush fire near 40 Dutzel Lane in Cherokee around 1530 hours this afternoon.   AA 210 were overhead reporting the fire to be about two to three acres with a structure involved. Three additional engines were requested with CAL FIRE's TGU unit and a dozer from the Plumas National Forest en route.
According to a timeline, the IC requested five additional engines due to the wind shifting and three additional structures at 1537 hours.  Oroville FD was dispatched and responding as mutual aid to the fire.
Tankers 88 and 89 were inbound from the Grass Valley area at 1549 hours.  About ten minutes later, the forward progress was stopped with the dozer going back in service.  Tankers were were available but would be eventually released. Water tenders were requested to continue with responding, however all other incoming engines and additional dozer were CODE GREENed.
All-in-all, the total amount of acres scorched was four with one shed, car and trailed being destroyed.  The GOOD NEWS is that firefighters saved many, many structures.
EAST CREEK FIRE
Today, at noon the EAST CREEK FIRE was reported to fire officials of a fire burning in the Kings Canyon Wilderness located south of the Bubbs Creek Trail and west of the East Creek Trail or about 8.5 miles east of Roads End Permit Station.  It is said to be burning 8,700 feet in a stand of Red Fir.
The cause is unknown and under investigation. The total acreage burned so far is 10 acres of timber with a 0% containment status.
Due to the remote location, there are no threats to property or people in the area.  However, there is some potential for fire growth which fire crews are working to contain as quickly as possible.
There are 15 personnel assigned to this incident.
HOLIDAY FIRE
CAL FIRE and Santa Barbara County fire personnel were battling a 35-acre wildfire on July 6th around 2345 hours PDT off of north Fairview Avenue and Holiday Hill Road in the City of Goleta (Santa Barbara County).
Mandatory evacuations of these are areas are still in effect Sunset Ridge Road, Franklin Ranch Road, North parts of La Goleta Road, north Fairview, north of La Goleta Road, El Camino Ratel, Holiday Hill Road, Villa Lemora, Cuesta Verde, Edward Place and Pine Tree Lane.
Red Cross Shelter –> 5769 Hollister Road.
Animal Evacuation Hotline –> 805-681-4332
San Bernardino County Sheriff's Office Deputies spotted a drone over theGoleta Valley Junior HS.
This will undoubtedly cause all aviation fire resources to shutdown until the airspace has been cleared. DON'T DO IT!  #NoDronesInFireZones period.
The fire was said to have started on the same day around 2040 hours.  Today, it is at 100 acres and with an 80% containment status.
KLAMATHON FIRE
The KLAMATHON FIRE is burning about two miles southeast of Hornbrook in CAL FIRE's Siskiyou Unit's service area in timber, chaparral and tall grass. Fire behavior is extreme with short crown runs and running.  Communications infrastructure in several areas are currently being threatened. Evacuations and road closures are in effect.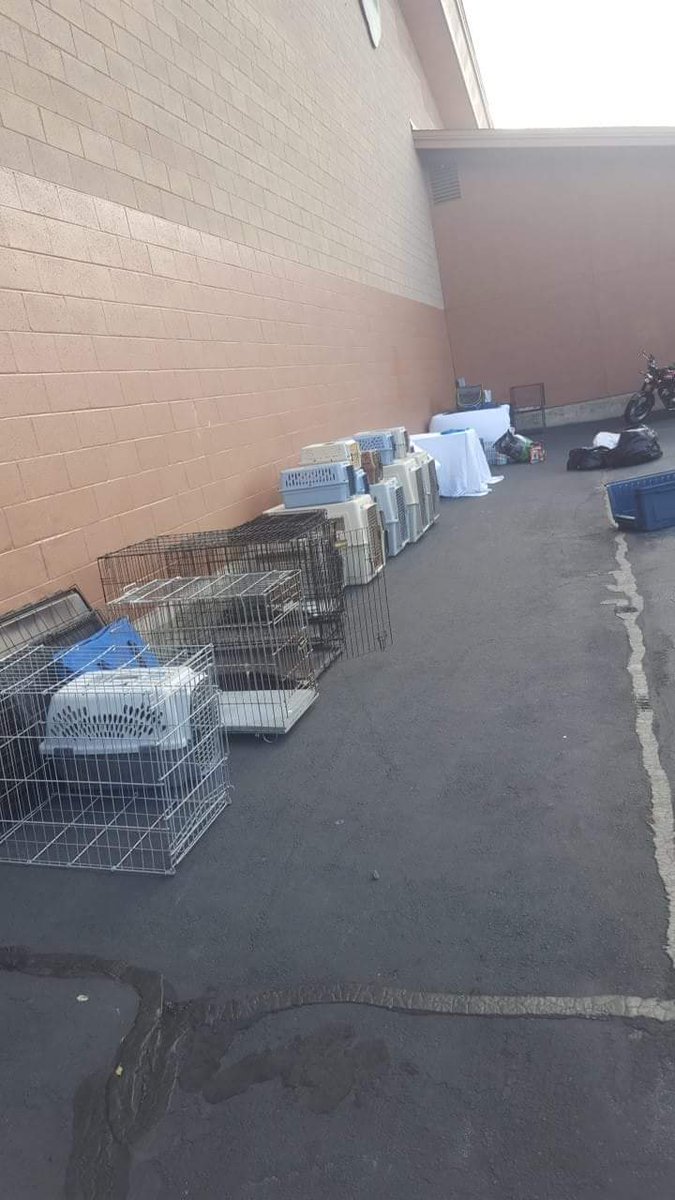 Public Service Announcement –> Siskiyou County Office of Emergency Services
"If you are in an evacuation zone, take your animals and animal supplies with you including crate, bed, feed, leash, whenever possible. Siskiyou Co Ag Dept public hotline to request animal evac or animal care assistance is 530-841-4028. Leave a detailed message."
9,600 acres with a 5% containment status. 572 personne along with 18 crews, 61 engines, 8 helicopters are assigned.  40 structures have been lost with costs-to-date of $1,000,000.
LIONS FIRE
The LIONS FIRE is burning in the Sierra National Forest without a Type 1 or Type 2 IMT that has scorched 4,064 acres.  The fire cause was lightning that ignited the area on Monday, June 11th around noon about seven miles southwest of the Mammonth Lakes area.  It has an 84% containment status.
There are 174 personnel, four crews and four helicopters. Cost-to-date has reached $4,300,000.
MARILYN FIRE
The MARILYN WILDFIRE is located in the 29300 block of Marilyn Drive where fire crews were dispatched at 1928 hours.  IC P17 on-scene.  No further details available.
PAWNEE FIRE 
The PAWNEE FIRE is burning in CAL FIRE's Sonoma-Lake Napa Unit's area.  This is no longer being managed by the CAL FIRE IMT Type 1 of the COUNTY FIRE, due to being transferred to the local unit today.
This fire is burning five miles northeast of Clearlake Oaks in brush and tall grass.  Fire behavior has been reduced to minimal fire activity.  Evacuation orders are still in effect.
15,185 acres destroyed with 22 structures lost. 96% contained.  543 personnel along with six crews, 10 engines with a cost-to-date of $36,500,000.
PETERSBURG FIRE
This fire was reported to have ignited on Sunday, July 1, around 1445 hours by an unknown cause. It is  burning in the Klamath National Forest, about 21 miles southwest of Etna in timber.  Command transitioned from a Type 3 to a Type 4 IMT under IC Isbell with the U.S. Forest Service (Klamath NF)
Fire behavior is said to be minimal but 215 acres have been scorched.
Crews have successfully reached a 90% containment status and crews are expecting this fire to reach 100% containment by Sunday, July 8, 2018.
37 personnel are assigned along with two crews and one engine.  Two structures have been lost.  Fire suppression and containment costs have reached $1,700,000.
SIERRA HWY FIRE
A brush fire prompted fire resources to be dispatched today at 1547 hours to the Sierra Hwy and Mint Canyon Road.  This is an open incident with limited information.
TUNJUNGA FIRE
The TUNJUNGA FIRE is located in the 13000 block of Little Tujunga Canyon Road where SO-41, RD-23 and P5EK1S-0501 and CAPT 310 were dispatched to at 0559 hours this morning. Limited information.
VALLEY FIRE
The VALLEY FIRE is burning on San Bernardino National Forest lands from an unknown cause on Friday, July 6, 2018 around 0130 hours.
The fire is burning on Hwy 38 at Valley of the Falls Drive and is being managed by a Southern CA IMT 2 which took command of the fire incident as of 1800 hours on Saturday, July 7, 2018.
The fire has consumed 1,000 acres of brush and timber,  as of tonight's reporting but crews have successfully reach a 5% containment status.  Currently in Unified Command with San Bernardino County SO, San Bernardino County FD, US Forest Service and CAL FIRE – San Bernardino Unit.
Evacuations are in effect for the Forest Falls Community area, east of Hwy 38.  Structure protection and security resources are in place if the fire reaches this area.  No structures have been reported damaged or destroyed from this wildfire.
Public Service Announcement —> Devore Animal Shelter – 19777 Shelter Way, San Bernardino.
Public Service Announcement —> Incident Fire Info Line – 909-383-5688
Public Service Announcement —> List of Closed Recreation Sites on the San Bernardino National Forest – https://www.fs.usda.gov/alerts/sbnf/alerts-notices
504 personnel are assigned to this incident along with 39 engines, nine crews, five water tenders, two dozers and nine helicopters.  Additional fire suppression and containment resources will continue to arrive on the fire line over the next few days.
A TFR is in effect over this fire until further notice.
WEST FIRE
The WEST FIRE is burning on the Cleveland National Forest, off of I-8 and West Willows Rd, about two miles east of Alpine (San Diego County)i n chaparral and tall grass.  Fire behavior is extreme and currently threatening the community of Alpine.  Evacuations and road closures are in effect.
504 acres have been burned up and crews have reached a 81% containment status. 18 structures have been destroyed.
Evacuations are in effect for Suncrest Vista Lane, Highlands View Road, Manzanita View, Olive View, Scenic View Road, Scenic View Place, Pine View, Viejas View Place, Sage View, Oak View Road, Verde View Road, Calle Caleta Viejas and Via La Mancha.
420 personnel from CAL FIRE – San Diego, Alpine Fire District and Cleveland National Forest are assigned along with eight crews, 67 engines and five helicopters.  Cost-to-date is $500,000.
WRIGHT FIRE
Fire resources were dispatched today at 1606 this afternoon  to the Guffy Campground near the Wrightwood Wash on the east side. PAT 38 (IC) arrived on-scene.  Open incident.
YANKEE FIRE
CAL FIRE's Butte Unit and the Butte County Fire Department were on-scene of a brush fire that broke out on Yankee Vista Circle, where fire crews worked tirelessly to stop the forward progression and holding the damage to a half-of-an-acre.
Mop-up operations were on-going around this afternoon at 1450 hours.
(c) 2018 NW Fire Blog