UPDATE 2 – NOVEMBER 2, 2019 – 2215 PDT
A wildfire has ignited in the 5300 block of 46th Street n East Jurupa Valley (Riverside County), which is about two miles northeast of Riverside, California.
It was reported at 0039 hours in early Wednesday morning.
The cause was deemed due to a car fire into wildland interface from the wreckage of a stolen vehicle being chased by local Police until they crashed into a field. Both occupants were arrested with one having a felony warrant and the other being charged with arson.
The fire burned about 300 acres of brush and tall grass.  Fire crews have successfully reached 70% containment.
About 347 fire personnel are still deployed on this wildfire that is now visibly displaying minimal fire behavior that is smolderng.  Along with staffing, there are 10 crews and 47 engines.
Six homes were destroyed.
Cost-to-date in firefighting suppression and containment efforts have reached $2.8 Million.
Classes with the Indian Hills and Peralta Elementary Schools in Riverside were cancelled on October 31st.
Incident Cooperators include AMR, Animal Control, CAL FIRE/Riverside, City of Corona FD, Riverside City FD, Riverside County FD, Riverside Co EMD, Riverside County Parks and the Sheriff's Office and the Red Cross.
Photo Credit | Riverside County Parks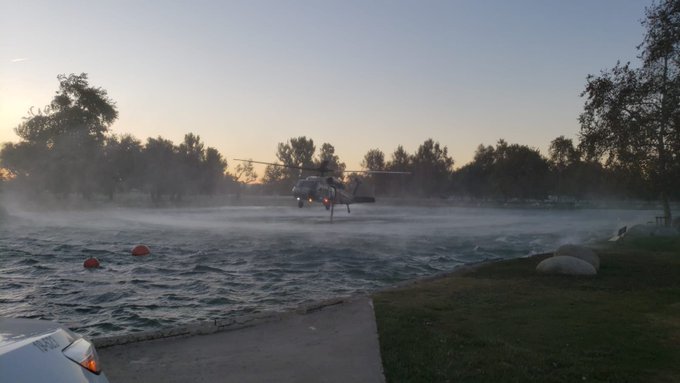 Hashtags include:  #CAWildfires #FireSeason #46Fire
(c) 2019 NW Fire Blog