HOG FIRE
UPDATE 4 | THURSDAY
INCIDENT SUMMARY
A wildfire is burning off of Hog Flat Reservoir and Hwy 144, west of Susanville in Lassen County and nearby to the GOLD FIRE, another large fire incident that the CAL FIRE LMU are both managing with separate Fire Commands.
Started 7/18/2020 at 1530 PDT. Fire fuels consist of timber, brush grasses. Cause is unknown and under investigation.
CURRENT STATUS
NEW Mandatory evacuation orders in effect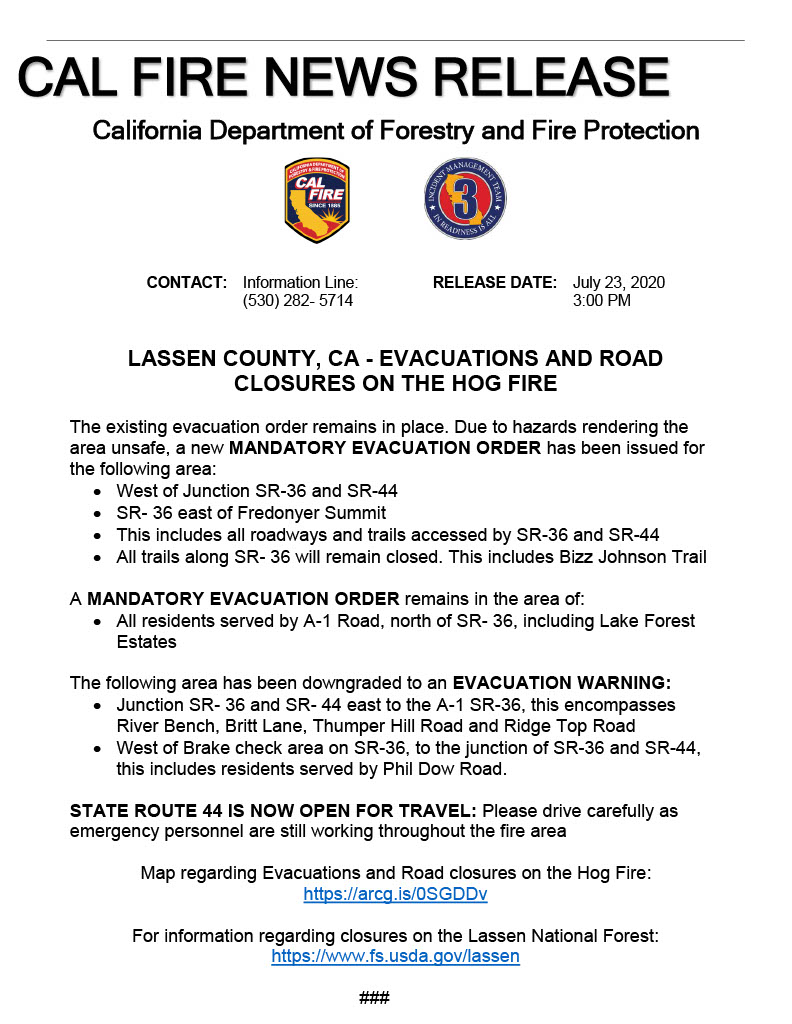 RESOURCES
Staffing
2,014 total personnel
198 engines
57 dozers
40 water tenders
42 hand crews
Multiple air assets flying as conditions allow
National Forest
Fire Agencies
CAL FIRE – LMU
USFS – Lassen-Modoc NF
Crockett Carquinez FD
Alameda County FD
CAL OES
STL and Trainee
Fremont FD
Oakland FD
Sonoma Valley FRA
Susanville FD
Law Enforcement
CHP
Sheriff's Departments | Lassen, Modoc, Shasta Counties
Police Departments | Redding , Anderson, CA Fish and Wildlife
Shelters
Lassen Community College. Phone Number:  530.250.9088.
ROAD CLOSURES
Hwy 44 from Hwy 36 and 44 junction to A-21
Hwy 36 from Hwy 44 and 36 junction to Westwood
CR A-1 from Gallatin Road to Hwy 36.
SOCIAL MEDIA
@nwfireblog – Twitter/Facebook – NW Fire Blog – Instagram
HASHTAGS
#CAwildfires #FireSeason2020 #HogFire
 (c) 2020 NW Fire Blog | Update 4 | 7/23/2020 – 1600 PT