UPDATE 1 | JULY 21, 2019 
Incident Summary
A wildfire prompted fire personnel and equipment to be dispatched around 1142 hours MST on Sunday, July 21, 2019.
The fire was reported by multiple calls from the general public and from fire lookouts around 1100 hours.
Almost one hour later, multiple engines, crews, helicopters, fixed wing aircraft along with nearly 100 personnel were on-scene of the five-acre fire.
The fire's cause has not been released and is currently under investigation.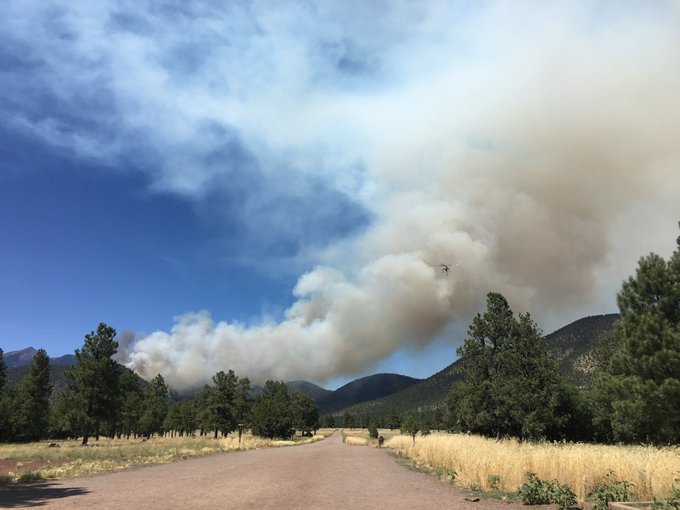 Location
The fire is located north of Flagstaff, near Schultz Pass Road.
Size
By almost 1330 Hours MST, the fire slowly grew to 20 acres.  Now at 1630 hours MST, the fire has been reported to have reached 400 acres of ponderosa pines and mixed conifer with a 0% containment status.
Resources
There are a total of 182 personnel and assets, which included 7 engines, 4 fuels crews, 2 hotshot crews, 14 patrol units, 2 dozers, 2 water tenders, 4 heavy air tankers, 4 SEATs (single engine air tankers), 3 Type Type-1 helicopters, 1 Type 3 helicopter, a VLAT (very large air tanker) and an air attack plane.
A Type 1 IMT Team 2 (SW IMT) is on order and will take command over this wildfire at 1800 hours MST on Monday evening.
EOC Activated
The Coconino County Emergency Management and City of Flagstaff collectively, have activated the Emergency Operations Center (EOC) in support of this wildfire named the MUSEUM FIRE.
Evacuations
An evacuation notice has been issued for the areas of Forest Road to Highway 89 (Mount Elden Lookout) and Schultz Pass Road to private land.   A pre-evacuation notice has also been issued for the area of Forest Road 420 to Friedlein Prairie.
The Coconino County Sheriff SAR members are assisting with evacuations.
Notifications
An American Red Cross Shelter has been established at the Sinaqua Middle School. 3950 E. Butler Avenue, Flagstaff, Arizona 86004.
For emergency notifications and other notices, go to coconino.az.gov/ready .
(c) 2019 NW Fire Blog – Updated @ 1630 hours MST.