LOS ANGELES COUNTY, Ca. | The TICK FIRE is located about 10 miles northeast of Santa Clarita in the area of Tick Canyon Road and Summit Knoll Road in Canyon Country.
Cause
The cause is unknown and under investigation.
FIRE FACT | Wildfires can travel and burn a football field within seconds. (FEMA)
Resources
Currently, the management of the fire is in Unified Command with Los Angeles  County's Fire Department and Sheriff's Office.  Assigned to this incident are 1,325 personnel along with 14 crews, 225 engines and four helicopters.
Incident Cooperators
Incident Cooperators are vital to a large-scale incident such as the TICK FIRE.Here is a list of resources partnering with Unified Command:
American Red Cross
Angeles National Forest
BLM
CA Dept. of Corrections
CA Highway Patrol
City of Santa Clarita
LA County Board of Supervisors
LA Dept. of Animal Care and Control
LA Dept. of Public Health
LA County of Emergency Management
LA Dept. of Water and Power
Southern CAL Edison
Southern CAL Gas Company
Canadian Superscoopers Quebec 1 and Quebec 2
Morro Bay FD
Paso Robles FD
San Luis Obispo FD
SLO County FD
SIGNIFICANT EVENT | Fire jumped the 14 Freeway near Soledad Canyon.
Damage Assessment
There have been nine structures lost with nine additionally damaged.  At this time of this post, 10,000 structures were still in harm's way.
Costs-To-Date
The cost-to-date for fire suppression and containment efforts have reached $6.9 Million.
SIGNIFCANT EVENT | 3 wildfires were burning at the same time, making this #4.
Shelters
Evacuation shelters in operations are:
College of the Canyons (gym). 26566 Rockwell Canyon Road, Santa Clarita, California.
Newhall Center. 2241 Market Street, Santa Clarita, California.
Castaic Animal Care Center. 31044 N Charlie Canyon Road, Castaic, California. (Small animals only).
Evacuations – Mandatory
The Fire Department and Sheriff's Office are allowing some residents back into areas through the repopulation process, while others are still under a mandatory evacuation order. Here are the current orders still in effect.
Barker Canyon Road from Sierra Hwy north of Vasquez Canyon Road to the end near 15142 Sierra Hwy.
Tick Canyon Road from Abella Road to Summit Knoll Road.
Emergency Preparedness Tips
The Fire Department recommends the 6 P's in what to take with you, should you need to evacuate from your home or business:
People and Pets
Papers (take important documents)
Prescriptions
Photos
PC Hard Drives and Disks
Plastic (ATM cards, Credit Cards, etc)
Road Closures
SB SR 14 from Escondido Canyon to Soledad Canyon. (CHP)
Through the Eyes of Social Media
Lodging Resources:  "Over 300 Airbnb Hosts Offering Free Lodging for Evacuees, Relief Workers in Santa Clarita Blaze." (media)
Inspirational Messages: "To our friends in California. Our hearts, thoughts, prayers, and love are with all impacted by these these devastating wildfires. You are not alone. We are with you." (Stars of Hope)
New Fire Warning: "Several rounds of strong, offshore winds prompts more fire danger for California. Here's the timing of threats across the entire state from north to south. Be prepared for the potential for more wildfires." (Weather Forecaster)
Big Thank Yous: "We wish to acknowledge the tireless efforts of NWS Los Angeles, NWS San Diego, Sawti Forecast and our local broadcast meteorologists for keeping all Southern Californians updated on fire weather conditions. We rely heavily on your forecasts. THANK YOU!" (LA Co FD)
"California is burning. Again. I've lived here my whole life. I've seen many fires, but the fires that have raged in recent years are much more frequent and powerful. They are so hot they create their own weather system.  It is horrific." (Twitter User)
"Getting the orders to evacuate your home during a natural disaster is one of the most difficult situations to face. Thank you Red Cross – Los Angeles County for providing individuals and families some comfort in these difficult times." (Los Angeles County)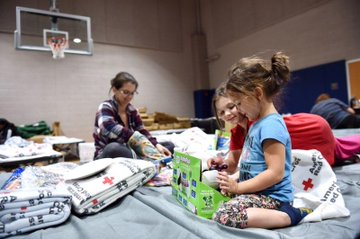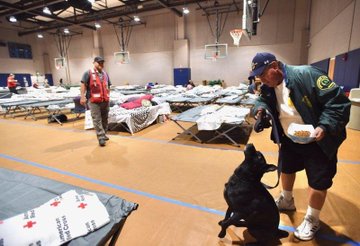 "Pets are sensitive to smoke and bad air quality too. Remember to bring them indoors until conditions improve." (Los Angeles County)
"Firefighters sleep after 24 hours on the fire line at Stonecrest Park in Santa Clarita."
Hashtags
#CAwildfires #FireSeason2019 #TickFire
(c) 2019 NW Fire Blog – Updated 10/26/2019 @ 0900 hours PDT