UPDATE 1 – OCTOBER 31, 2019 – 2150 PDT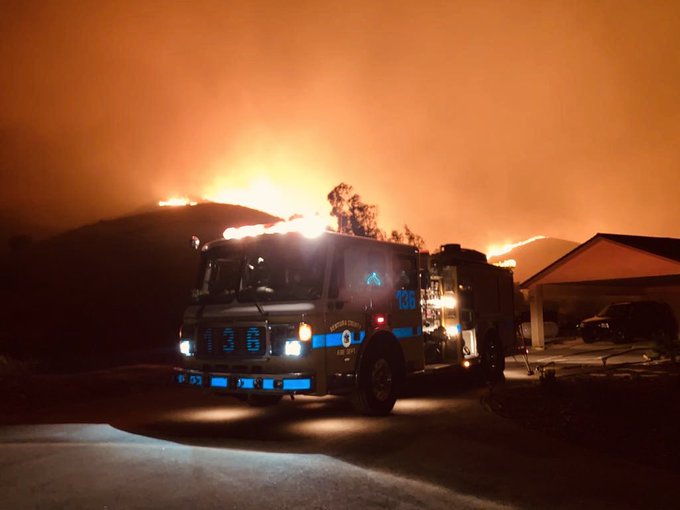 INCIDENT SUMMARY | A new wildfire has broken out off of Bradley Road and Solano Verde Drive at the top of South Mountain, north of Somis and in Santa Paula, California in Ventura County.  Firefighters responded this evening around 1814 hours PDT.
CURRENT FIRE WEATHER  The fire is currently being fueled by gusty Santa Ana winds and is quickly moving across several areas prompting evacuations.
Fire weather is getting significantly worse as winds were reported as being prominent in the areas of Wiley Ridge, Happy Camp Canyon and Boney Mountain.
It was said the fire was being spread by sustained winds of 10-25 mph and gusts up to 25-40 mph.  Offshore winds are expected to continue through Friday but remain below RED FLAG criteria that are impacting most locations across the State.
CAUSE | The cause is unknown at this time and under investigation.
SIZE UP | As of 2035 hours PDT this evening, the fire has burned 750 acres and there is no containment status at the time of this post.  At 2130 hours, the acreage was upgrade to just under 4,000 acres with an active fire behavior and moving at a fast rate of spread.
FIRE TACTICS | Fire crews are working to keep the fire within the "box" which includes south of the 126 freeway, north of Los Angeles Avenue, East of Vineyard Avenue and West of Balcom Canyon Road.
Copters making water drops and engines getting in place for structure defense were being completed when the brush fire had only been at 150-acres.
Structure protection is currently in full force, as crews work to protect homes. The fire is moving towards this. Slow rate of spread on the Santa Paula side.  Moving westward.
RESOURCES | There are 250 firefighters assigned as ground and air resources.  About 30 engines, three water tenders, three helicopters and two dozers are on-scene in full firefighting suppression mode.
Two additional Orange County copters on order. Priority for retardant early morning on Friday (heel of the fire due to windshift expected).
INCIDENT COOPERATORS | VCFD, Ventura County Emergency Operations Center, Ventura County humanitarian and animal welfare. World Central Kitchen, Culver City FD Strike Team XLA-1075A (3rd consecutive fire/just released from Kincade Fire) along with two Los Angeles County Fire Air Ops copters.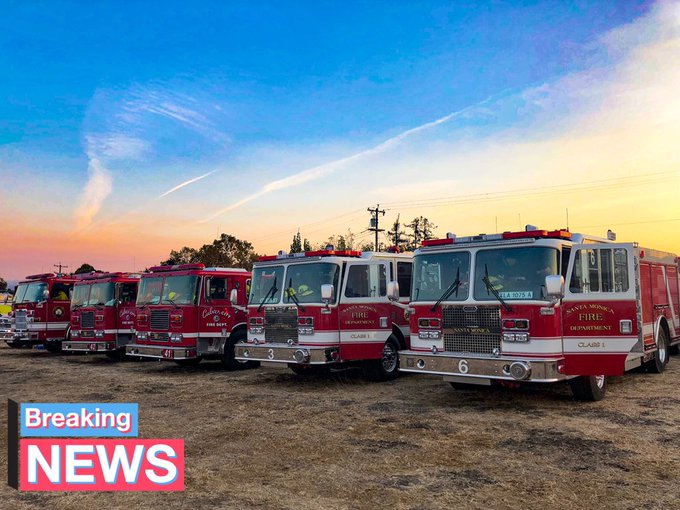 UNIFIED COMMAND | Management of this fire is in Unified Command with Ventura County FD and Ventura County Sheriff's Office.  Ventura County Fire Department is currently the lead agency.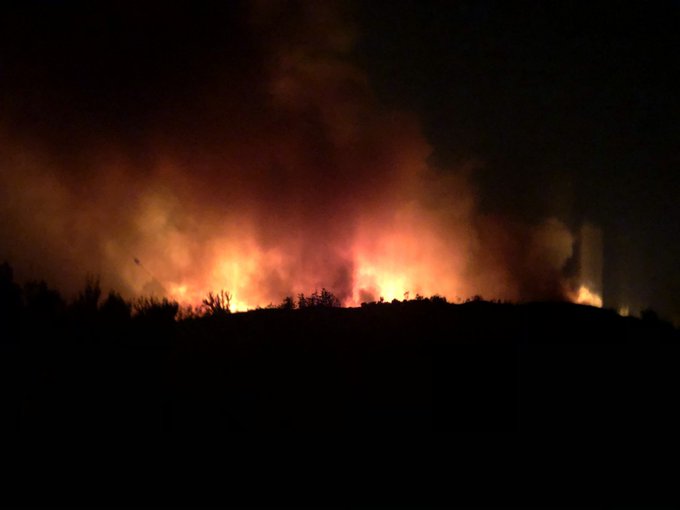 EVACUATIONS | Mandatory evacuations are in effect for the following areas. (VCEMERGENCY.com for evacuation order info).
North Boundary – South Mountain Road
West Boundary – West Los Angeles Avenue
East Boundary – Balcom County Road
South Boundary – Highway 118
SHELTERS | Shelters are currently open for small and large animals as well as for people.  Here is a current listing:
Camarillo Commuinity Center. 1605 Burnley Street, Camarillo. (Opens at 0900 hours)
Camarillo Animal Shelter  (Small animals). 600 Aviation Drive, Camarillo.
Ventura County Fairgrounds (Large animals). 10 West Harbor Boulevard, Ventura, CA.
Earl Warren Showgrounds (Large animals). 3400 CAlle Real, San Barbara, CA.
The Humane Society of Ventura County (All sizes of animals). 402 Bryant Street, Ojai, CA. Open (urgent). Phone # 805-646-6505.
SCHOOL CLOSURES | Mesa Unified School District and Santa Paula Unified School District are closed.  (www.vcoe.org)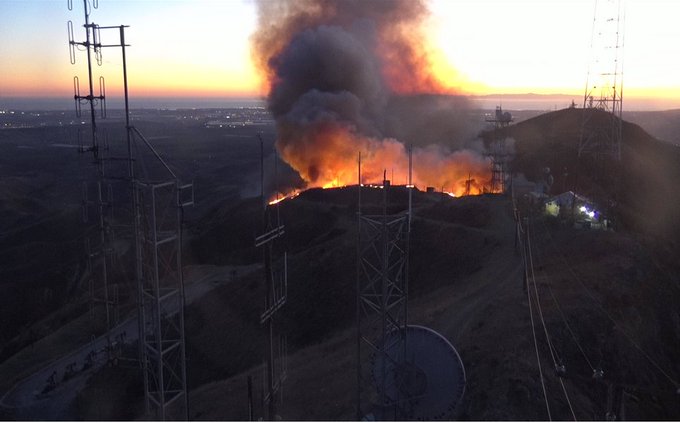 Firefighters (VCFD + CAL FIRE) had just mopped up a .25 acre brush fire behind homes in the Coronado Circle in Santa Paula area this evening. #CoronadoFire (VCFD PIO)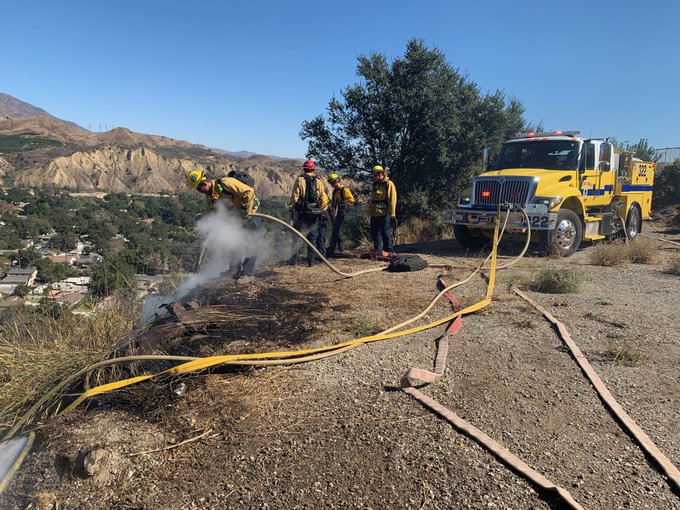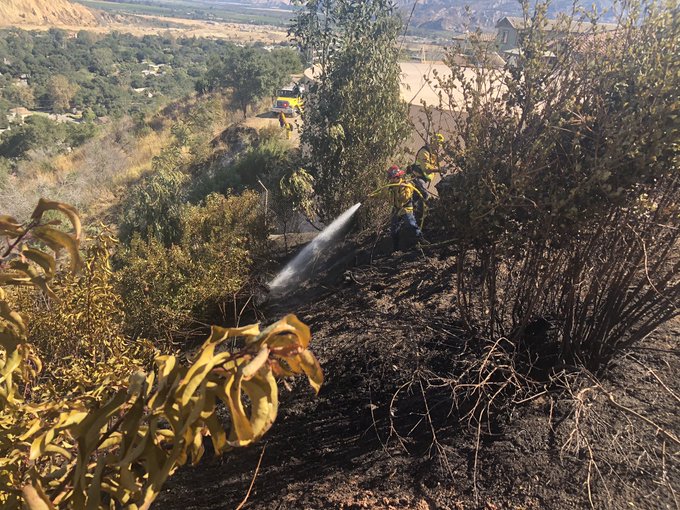 "On the northwest side of the fire, some kind of oil facility. Getting involved in the fire. Pilots going to take a look." – Media
" IC reports 150 acres well established on the upper ridge, creeping down both the Somis & Santa Paula sides. Also previously balanced out to a 2nd alarm." – CA Fire Scanner (1918 hours)
"IC directing all of the inbound engines into the Somis side for structure protection. Fire slowly backing down the Santa Paula side & is a lower priority, will be worked on w/ dozers & crews." – CA Fire Scanner (1938 hours)
"AA reports oil infrastructure has been directly impacted & putting up a lot of heat, fire now making a significant push down Santa Paula side." – CA Fire Scanner (2147 PDT)
PHOTO IMAGES | Ventura Co FD PIO, unless otherwise given credit to other sources.
HASHTAGS | #CAWildfires #FireSeason2019 #MariaFire
(c) 2019 NW Fire Blog