UPDATE 1 – MAY 18, 2020
A wildfire incident, named the EAST DESERT FIRE, is burning near the Cave Creek Regional Park in Maricopa County, Arizona.
"Roadside wildfires are a big issue in AZ. Dragging tow chains are a common cause – starting multiple fires, sometimes for miles. Wildfires put communities, emergency responders at high risk and increase exposure to injury, smoke, and disease." 
– BLM AZ Fire
Resources include: AZ Forestry, AZ State Fire, and Maricopa County; Tonto NF, BLM AZ Fire, Peoria FD, Daisy Mtn FD, Phoenix FD, Rural Metro, North Phoenix FD and Cave Creek FD.
Here is a timeline of this incident.
MAY 17, 2020
1320 Hours MST |  The AZ Dispatch Center dispatched resources:  7-6 BAT 4-1 CH 1 CH 4 CH 7-1 CPT 4-1 CPT 4-2 DIV 7-1 E- 461 PHX CREW to a wildfire located on North 26th Street and East Desert HIlls Drive. CAD call has been updated to reflect 1492 acres.
1434 MST | Firefighters on-scene of a wildfire, approximately 5-8 acres in size, located near 24th and Desert Hills. Moderate rate of spread.  Ground resources and aircraft ordered.
"We're receiving several reports of people still target shooting on BLM lands. Fire restrictions due to dry conditions are in effect and target shooting is not allowed. For all activity restrictions under fire restrictions,"
– BLM AZ Fire
[Photo Credit:  AZ State Forestry]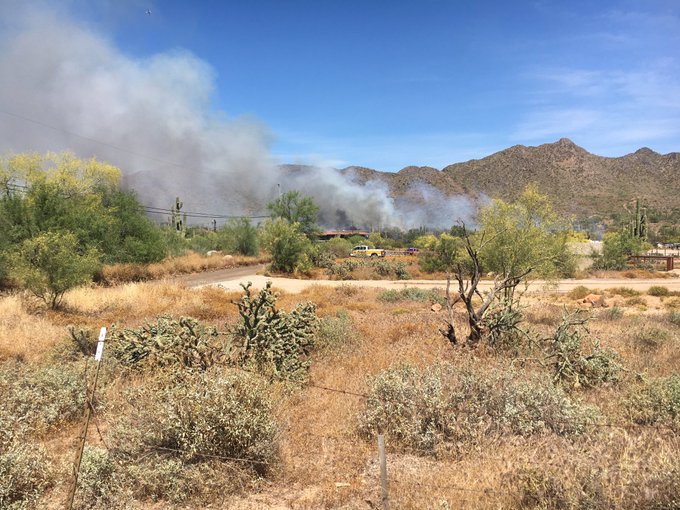 1539 Hours  MST | Estimated 300-500 acres. Burning in North Phoenix.  Active behavior and fire with wind-driven winds
[Photo Credit:  AZ State Forestry]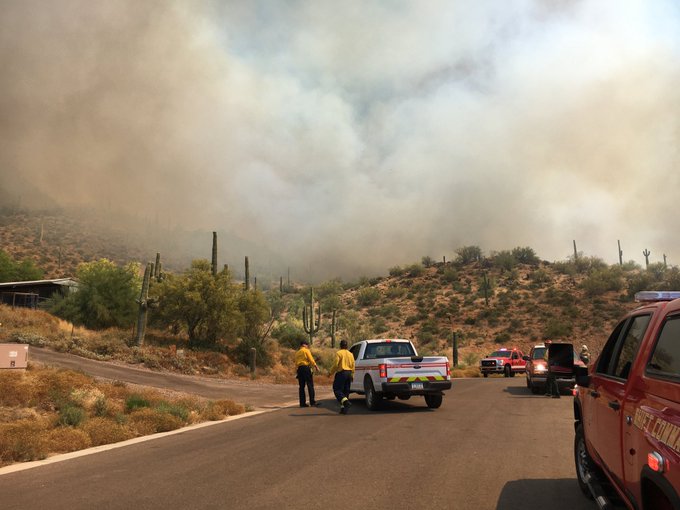 1714 Hours MST | 300-500 acres. 0% containment. Fire behavior still active and with wind-driven runs. Moving away from homes into open area, however, Engines are providing structure protection for 5 nearby homes.
1925 Hours MST |  Estimated 400 acres. 40% contained. FIU states fire started  in the afternoon on Sunday, around 24th Street and Deset Hills.  Human-caused.
2151 Hours MST |  Fire activity and winds increase during the night, even though cooler temps.  Fire moving to the northeast towards Cahara Springs.
[Photo Credit:  AZ State Forestry]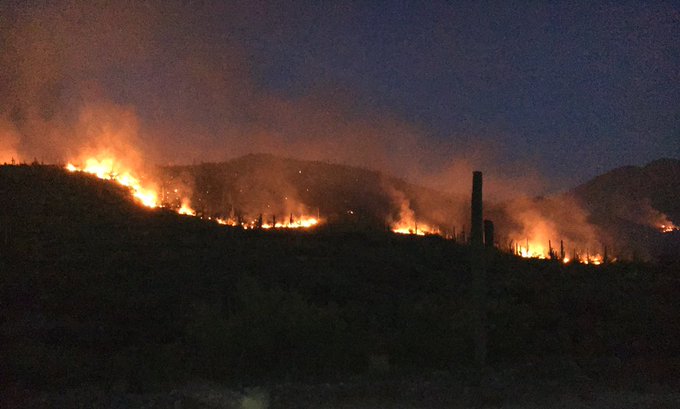 2200 Hours MST | 1,000 acres. Fire moving east to northest towards Cahara Spring. IC orders additional resources:  6 Hot Shot crews, 10 engines and aircraft for the next morning on Monday, 5/18/2020.  Fuels:  Grass, desert vegetation. Dry conditions.
2229 Hours MST | Daisy Mtn Fire & Medical are on-scene of assisting with night fire operations.
[Photo Credit: Daisy Mtn Fire & Medical]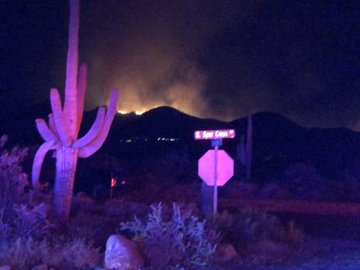 MAY 18, 2020
0008 Hours MST |  1,500 acres. Active fire behavior with fire moving to the east to northeast towards Cahava Springs in Cave Creek.  Evacuations in effect: 40 homes. Off of Cahava Springs Rd. More resources on order.
0719 Hours MST |  1,500 acres. 20% contained. Evacuations in effect: 130 homes evacuated per MCSO. Increased fire activity with high winds.
[Photo Credit: Daisy Mtn Fire & Medical]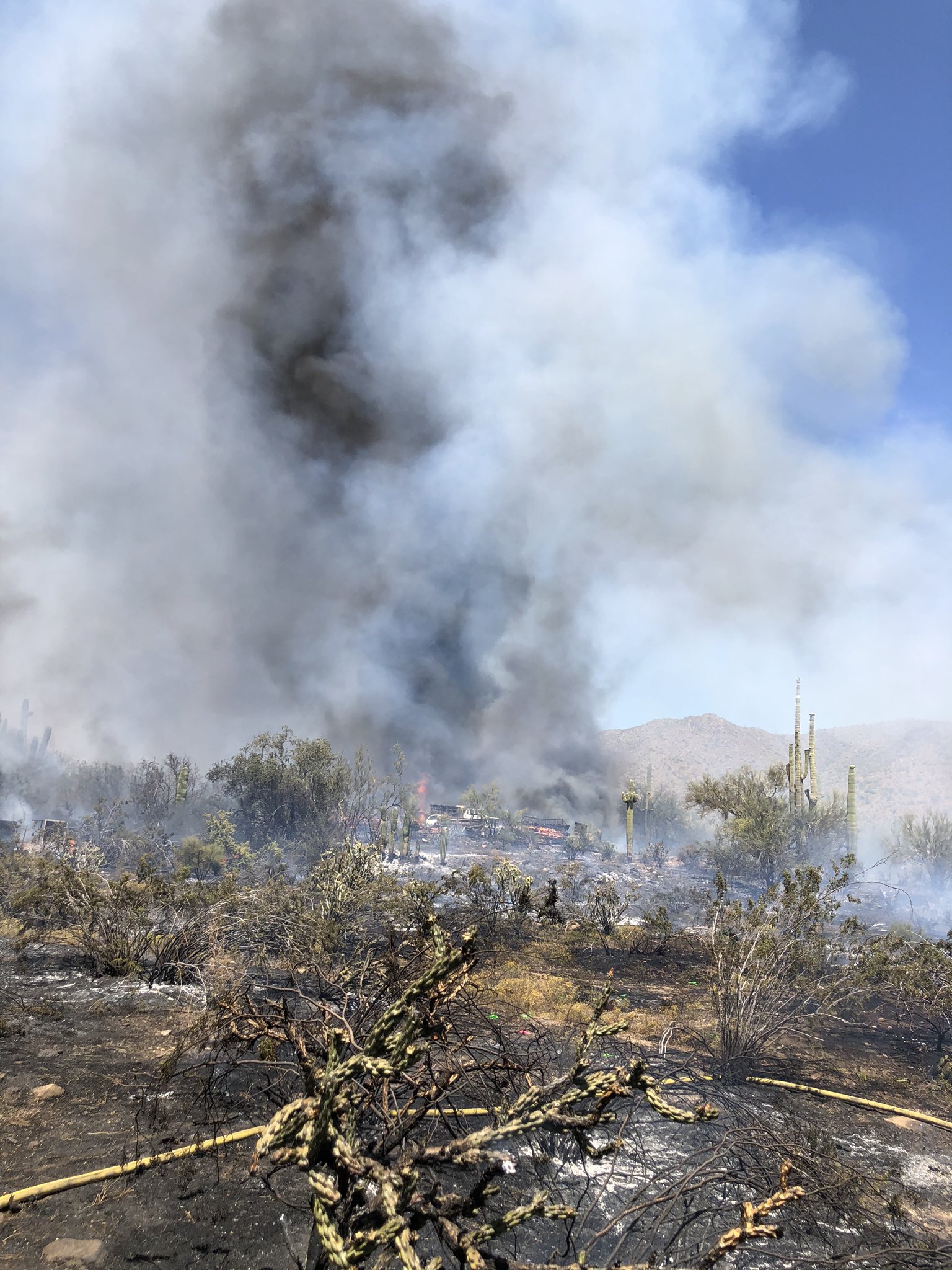 1145 Hours MST | Evacuation Center:  Cactus Shadows HS main gym.  5802 E Dove Valley Road, Cave Creek, AZ. Managed by: American Red Cross.  Bring your own mask and expect social distancing. 
1225 Hours MST |  A Fire Management Assistance Grant  was submitted by AZ Fire and was approved for federal funding by FEMA to help cover costs wit this wildfire.
[Photo Credit:  American Red Cross]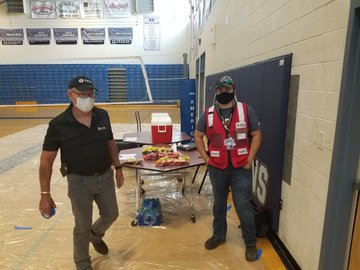 1557 Hours MST | 1,500 acres. 20% containment status. Ground resources include SEATs (Single Engine Air Tankers), VLATs (Very Large Air Tankers) and AA (Air Attack).
1920 Hours MST | 1,492 acres. 50% contained.  Spread of fire slowing. Firefighters  making progress.
(c) 2020 NW Fire Blog – Posted 5/18/2020 – 1945 PT.