LAKE FIRE
Lake Hughes Community (Los Angeles County), California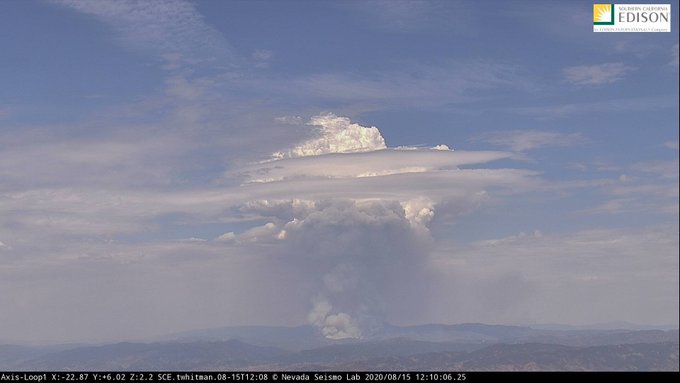 Camp 9 camera
UPDATE 3 – Saturday, August 15, 2020
INCIDENT SUMMARY
The fire started Wednesday around 1540 hours PT.  A local FD responded to a report of a wildfire in the area of Lake Hughes and Prospect Roads, southwest Lake Hughes, an unincorporated area of Los Angeles County, California.
Fire behavior was reported as extreme with running, spotting and out-of-control. Images sprayed all over Social Media and on news outlets, showed one video of a hillside ablaze and looking like a roman candle.
Flames were burning horizontal, which we have never seen before. However, fire tornadoes were familiar and knowingly dangerous to those that stand in the firestorm's path.
CURRENT STATUS
Since our last update on Thursday, we reported the fire had burned 11,000 acres of chaparral, brush and timber, it has now increased on Saturday up to 14,714 acres.
Fire crews have successfully reached a 12% containment status with their objectives to continue towards full suppression and eventually putting it out. Expected containment is due to be reached on September 2, 2020.
The cause of this fire is unknown and under investigation.
There have been no reports of injuries to civilians or firefighters.
At this time, 4,570 structures are under threat.  Several structures have been damaged and lost.
PERSONNEL
The Incident is in Unified Command with Angeles National Forest (Lead Agency) and the Los Angeles County Fire Department.  Fire management is currently being operated by the CA Team 5, a Type 1 IMT.
There are 192 engines, 27 hand crews, 17 dozers, 23 water tenders, 10 helicopters and a total of 1,563 personnel.
Incident Cooperators include the LA CO Sheriffs Department, CHP, County of LA Public Works, County of LA Animal Care and Control, County of LA Parks and Rec, Red Cross and Southern CA Edison, CAL FIRE.
EVACUATION ORDERS
Evacuations are still in effect for:
Lake Hughes Road West of Pine Canyon
North of Dry Gulch Road
West of Hughes Road and Fire Station 78
North of Pine Canyon and Lake Hughes Road
South of SR 138
EVACUATION SHELTERS
Evacuation Centers currently open are the following:
Highland HS.  39055 25th Street, West Palmdale CA 93551
Castaic Sports Complex.  31230 Castaic Road, Castaic, CA 91384
NOTE:  Evaucees with small animals can relocate to evacuation points where individual needs will be assessed by the Red Cross.  You must remain inside your vehicle per the Los Angeles County Public Health Mandate.
ANIMAL CARE
Animal Care locations are the following:
Lancaster Animal Care Center.  5210 West Avenue I, Lancaster, CA 93536
Palmdale Animal Care Center. 38550 Sierra Hwy, Palmdale, CA 93550
Castaic Animal Care Center.  31044 Charlie Canyon Road, Castaic, CA 91384
Antelope Valley Fairgrounds (LARGE ANIMALS ONLY). 1326 West Avenue , Palmdale, CA 93550
DAMAGE ASSESSMENTS
As of today, 6 structures and 15 outbuildings have been destroyed. 3 structures were damaged.  The cost-to-date of firefighting suppression and containment expenses have risen to $5.6 Million.
THROUGH THE EYES OF SOCIAL MEDIA
(c) 2020 NW Fire Blog – Updated 8/15/2020 1310 PT