ZOGG WILDFIRE
SIT REP 1 | SEPTEMBER 27, 2020
Photo Credit | Alert Wildfire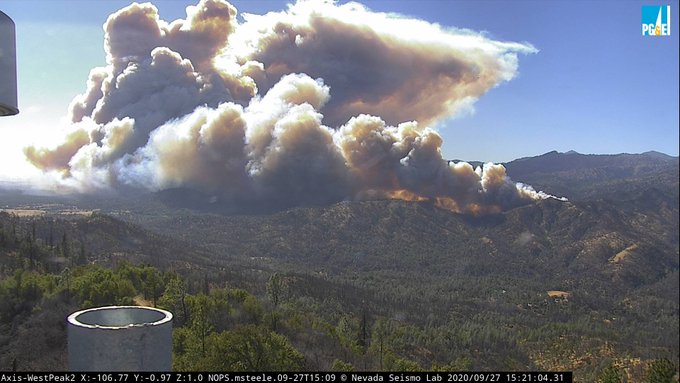 INCIDENT SUMMARY 
A new wildfire is burning in California. The ZOGG FIRE ignited around 1500 hours PT on Sunday, September 27, 2020, off of Zogg Mine Road and Jenny Bird lane, north of Igo in Shasta County, California. This is the western portion of the County.
As of 1605 hours, fire has said to have already burned 400 acres.  There is a 0% containment status at this time.
ABOUT TOWNS OF IGO and ONO
Igo, is a small unincorporated town with about 625 residents, about 9 miles west of Redding.  Its neighboring town is Ono, which is 4 miles west of Igo.  It is home to the Northern CA Veteran's Cemetery.  The town also has a post office, several hotels, an elementary school and general store.
FIRE OPERATIONS
CURRENT STATUS
1613 | Fire has jumped Platina Road to the south near Junkans Road. This is closer to Ono then Ino. (Scanner reporter)
1535 | Fire has destroyed 400 acres. 0% contained. (CAL FIRE SHU)
1511 | Reports of persons trapped on Zogg Mine Rd. Fire has spotted down to Cloverdale Road and Clear Creek Road, about 2 miles away. (Scanner Reporter)
1501 | New start.  First due crews reporting 100+ acres. IC requested 10 additional engines and large air tankers. Evacuations in effect. (Scanner Reporter)
EVACUATIONS
1642 | COLLECTION POINT – Holiday Market. 20635 Gas Point Rd. Cottonwood.
1558 | MANDATORY – ALL AREAS SOUTH OF SOUTH FORK RD, ZOGG MINE ROAD. SOUTH ALONG GAS POINT CORRIDOR, ALL ALONG GAS POINT ROAD TO FOSTER DRIVE. (CAL FIRE SHU)
1509 | WEST OF ZOGG MINE RD (Shasta Co Sheriff Office). CAL FIRE SHU Firefighters on-scene of 50 acres in Igo at Zogg Mine x Horse Canyon Way in Shasta County (CAL FIRE SHU)
CLOSURES
1521 |  WHISKEYTOWN NRA.  Fire is burning towards the south side of the park.
1519 |  CLEAR CREEK ROAD, CLOVERDALE ROAD, PLACER ROAD, MULETOWN ROAD. (CAL FIRE SHU)
EYEWITNESS ACCOUNTS
1618 | Fire can be seen from Keswick Dam Road. (Eyewitness account)
1557 | Smoke plume can be seen from Redding and Red Bluff. (Fire camera)
1554 | Fire threatening the Town of Igo. (Eyewitness account)
1547 | Fire can been seen from Rainbow Lake (Fire Camera)
1543 | Smoke column can be seen on the fire camera.  (Credit:  Alert Wildfire)
(c) 2020 NW Fire Blog – Updated 9/27/2020  1745 PT