UPDATE 1 – MAY 31, 2020
Photo Credit | Phoenix FD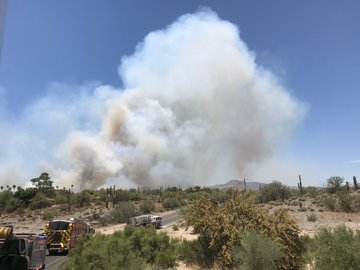 INCIDENT SUMMARY
A Wildfire named the OCOTILLO FIRE is burning  NW  of the town of Cave Creek (population 51,000), and about 10 miles NE of Phoenix and 30 miles from Scottsdale, Arizona.
Fire agencies were dispatched on May 30th to a fast-moving brush fire that was threatening multiple structures.
Fire has been determined to be human-caused. Type of ignition is unknown at the time of this post but is under investigation.
Photo Credit | AZ State Forestry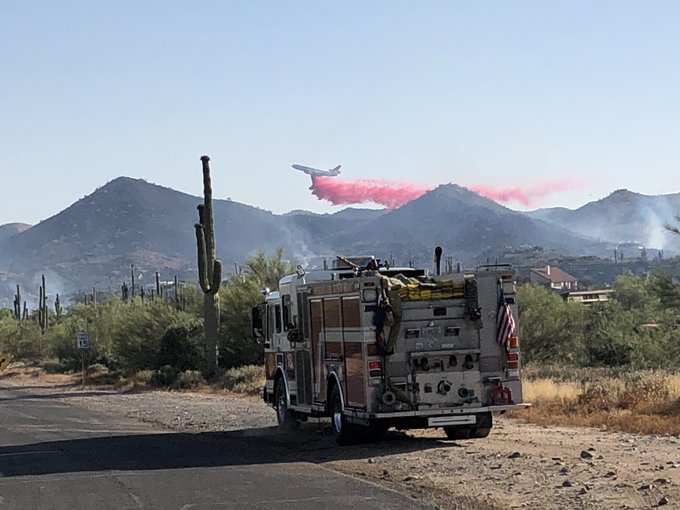 EVACUATIONS
About 1,000 people have been evacuated from about 500 homes still under direct threat.
MANDATORY – 5/30/2016 1616 MST Grapevine on the south side to Spur Cross Conservation area on north. West boundary is Mountain Range E to School House. (AZ State Forestry)
MANDATORY – 5/30/2020 1457 MST Town of Cave Creek evacuated.
MANDATORY – 5/30/2020 1450 MST ALL residents North of Ocotillo Rd, South of Morning Star Rd, East of 48th Street and West of Spur Cross Road.
EVACUATION SHELTER – 5/30/2020 1450 MST – Cactus Shadows H.S. 5802 E Dove Valley Road, Cave Creek AZ 85266.
SIZE, CONTAINMENT STATUS
As of 0737 MST, the fire was reported at 1,216 acres and firefighters had a 5% containment status.  Fire fuels include:  very dry grass, brush and desert vegetation.
WEATHER REPORTS
5/30/2020 1418 MST – Smoke showing on satellite and moving north. Weather station showing, gusty winds of 15-20 mph, temps of 102*F and low RH at 14%. (Weather Media)
Photo Credit | AZ State Forestry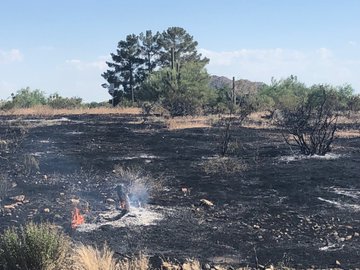 DAMAGE ASSESSMENTS
Several unknown number of homes have been lost in Cave Creek area.
FIRE RESPONSE
There are approximately 177 firefighters and equipment assigned to this wildfire incident.
Air fire assets are using small lakes on a nearby golf course for dipping their bambi buckets into as they drop water over the fire. Tankers 910, 912 and T15 are actively working.
Incident Cooperators for this incident include the following from Fire Departments, Emergency Management, Law Enforcement, Local/Federal Governments, Humanitarian and Animal Welfare organizations, as well as Fire Mapping and Transportation agencies which we have broken out into categories.
Fire Departments
Daisy Mtn Fire
AZ State Forestry
AZ Fire Info
BLM Arizona Fire
Phoenix FD
Rural Metro CAZ
Scottsdale FD
AZ Fire and Medical
Air Assets
Tanker 910
Tanker 912
Tanker 15
SEATs
Photo Credit:  Daisy Mtn FD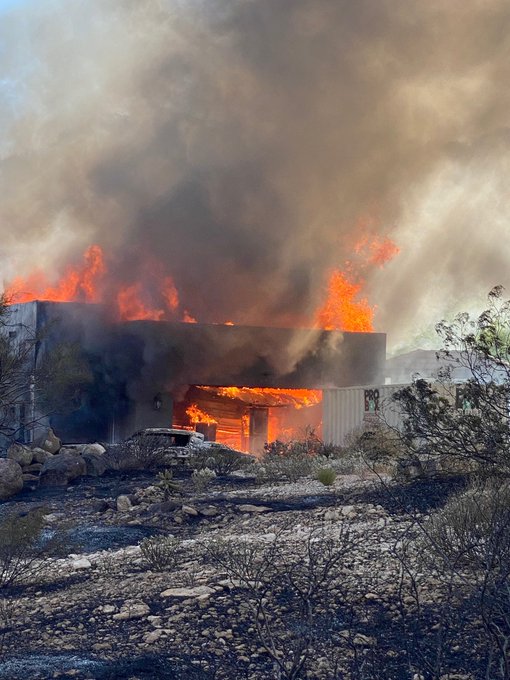 Law Enforcement
Maricopa County Sheriff Office
Transportation
Humanitarian/Pets
American Red Cross
AZ Humane Society
Fire Mapping
Jospeh Elfet (@MappingSupport)
Inciweb
Emergency Management
Maricopa Co Emergency Management Agency (MC EMA)
Government
Town of Cave Creek
Maricopa County
FEMA – Approved a Fire Management Assistance Grant (FMAG)
Photo Credit | Phoenix FD
THROUGH THE EYES OF SOCIAL MEDIA
"Fire can be seen from the 7th hole of Rancho Manana Golf Course. Golfers continue to play as fire burns 50 feet away." – Media
"The fire retardant drop line came right into town." – Cave Creek resident.
"Community reaches out to help fire victims/evacuees at a Red Cross evacuation shelter, with one recently graduated Cactus Shadow High School senior just days ago." – Media.
(c) 2020 NW Fire Blog – Updaetd 1400 PT/MST