WASHINGTON STATE
UPDATE 1
Sunday, June 23, 2019
Incident Summary | A wildfire has ignited this Sunday afternoon at a meat smoker near a garage of a structure in the 3500 block of Hwy 155 north in between Belvedere and Elmer City, Washington.  (unconfirmed by our verified fire sources pf the exact cause but info being reported by a 3rd party on a fire related site).
The fire is burning on the Colville Indian Reservation and fire personnel along with assets are working to stop the fire from damaging or destroying any of their structures.
Resources | Resources include 2 helicopters from Omak and Colville (H340, 344), WA DNR, Colville Fire, Redding air tanker (on a load and return) and hand crews. Various fire districts.
Evacuations | Those in the Rebecca Lake community are under evacuation.
Fire History | There have been a rash of fires that have hit the Elmer City area.  Here is a timeline of some of those previous fires.
October 3, 2018:  A fire started inside the Grandview Trailer Park just outside of Elmer City.  4 mobile homes are destroyed. 2 are damaged.  Residents are devastated, including one local artist who loses his art studio. Fire resources who responded were:  Elmer City, Colville Confederated Tribes, U.S. Bureau of Indian Affairs, Mount Tolman Fire Center, Coulee Dam, Grand Coulee, Electric City and Douglas County responded.
Photo Credit:  Okanogan County Emergency Management Agency.
Sept. 11, 2016:  SR 155 @ SR 174 is closed due to a 2nd fire. Parts of Grand Coulee communities are at a Level 2 evacuation.  Fire heads down towards the Elmer City Post Office in this photo.
Photo Credit:  Grant County Sheriff Office.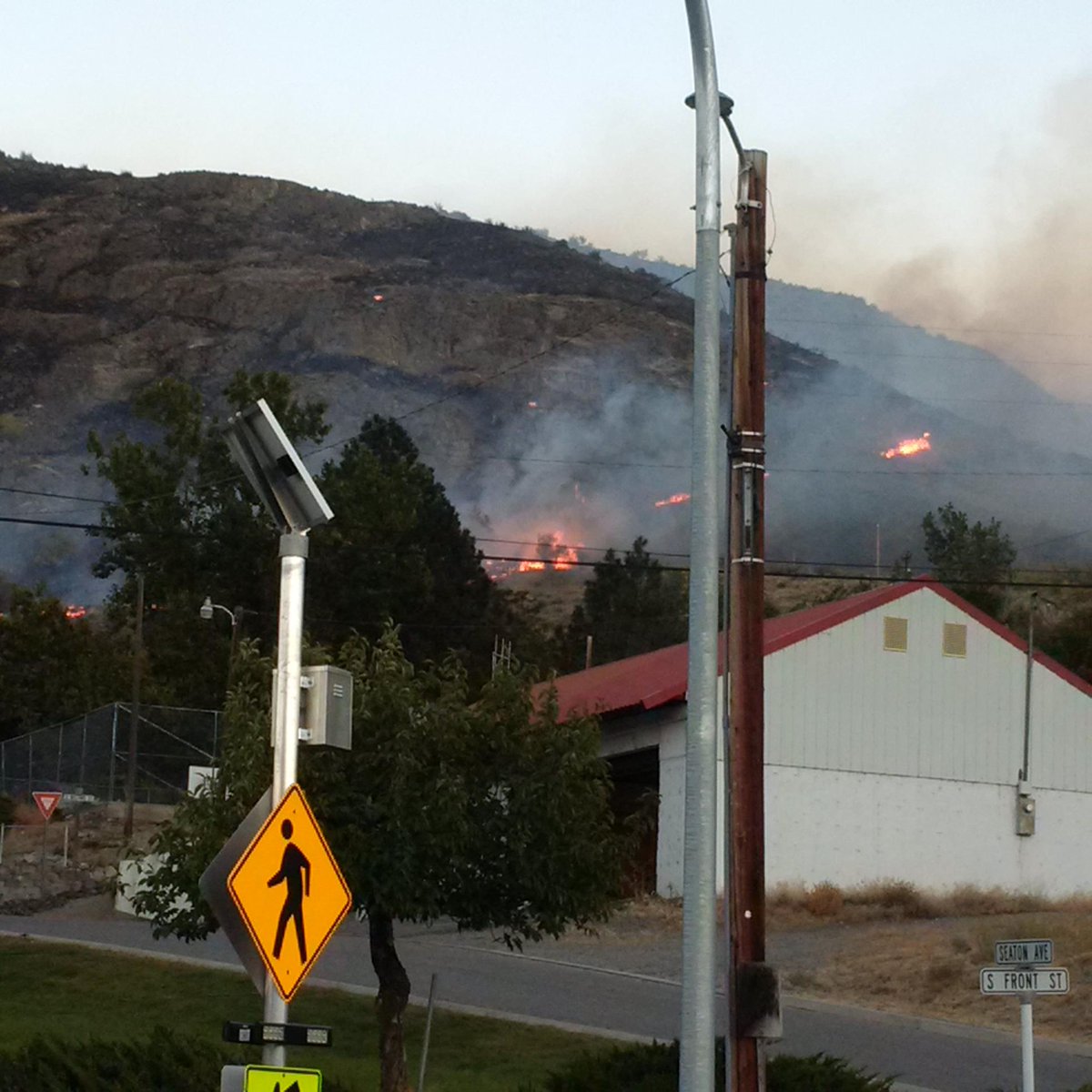 August 16, 2012:  An Okanogan County sheriff deputy trades his badge to help with firefighting.
Current Social Media Reports | Here are some eyewitness accounts and what others are saying across all Social Media Channels:
"Can see smoke 1 mile N of the Grand Coulee Dam."
"Fire started downhill near the river and worked its way east/southeast and now due east. "
"Fire may have started behind a fruit stand on Hwy 155 and north of Peter Dan Road."
(c) 2019 NW Fire Blog – Updated 2045 hours PDT